NEW YORK (TheStreet) -- Spot gold prices were dipping in the red Monday afternoon due to profit taking, which kicked in after the yellow metal hit about $1,320 on Friday.
"People saw it all weekend long," EverBank president Chuck Butler said of the Friday price level. This profit taking "just makes a lot of sense." According to a coin dealer Butler spoke to recently, there's been an increase in individual selling of gold recently to pay bills -- electricity bills for instance. Butler noted that this selling is sparse compared to the panic selling seen a several years ago, when gold tumbled from $1,000 to $900 to $800. Looking further into the future, Butler believes that gold can be pushed beyond $1,300 -- and even has a chance to go to $1,500 in a year. Although the Fed has already indicated that it's open to more quantitative easing owing to very low inflation levels -- and much of this announcement has already been priced into the current spot gold prices -- "I think the Fed will surprise" with how big they're going to make the size of the additional quantitative easing, which will put further downward pressure on the dollar and "spur even more gold buying," Butler said. Butler added that the S&P Agriculture Index has been at a two-year high, indicating higher inflation and more buying of gold and silver as an inflation hedge. The Australian Commodity Index, Butler continued, is equal to 2008 levels right now, indicating a "huge" boom in commodity prices, which "has a lot to do with the push we've seen with gold and silver recently." Silver prices, he said, could even have a chance to advance to $50 in a year. Silver is used as both an investment and industrial metal. In terms of the recent price action of silver, Butler thinks that "it has risen quite nicely in the last couple weeks on the coattails of gold," though without any "real emphasis" on silver vs. gold: "we've seen it in equal amounts ... when gold sold off, so did silver." New York spot gold prices were falling by $3.90, or 0.3%, to $1,314.70 an ounce Monday afternoon.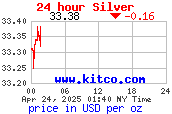 New York
spot silver prices
were lower by 10 cents, or 0.5%, at $21.99.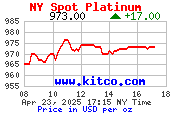 New York spot platinum prices were losing $6, or 0.4%, at $1,669 an ounce, while its sister metal was slipping.
New York spot palladium prices were surrendering $16, or 2.8%, at $557 an ounce.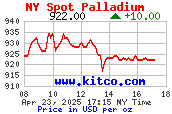 A handful of mining stocks and precious metals ETFs ended Monday's trading session in negative territory. Mining stocks offer another form of exposure to precious metals.
North American Palladium
(
PAL
) closed at $4.24, down 4.9%, while
Stillwater Mining Company
(
SWC
) finished at $16.24, down 4.4%.
Barrick Gold
(
ABX
) ended at $45.98, down 2.2%.
SPDR Gold Trust ETF
(
GLD
-
Get Report
) fell 0.4% to $128.46 and
ETFS Physical Palladium Shares
(
PALL
) tumbled by 2.2% to $55.90. -- Written by Andrea Tse in New York. >To contact the writer of this article, click here:
Andrea Tse
. >To follow the writer on Twitter, go to
Andrea Tse
. >To submit a news tip, send an email to:
tips@thestreet.com
.
RELATED STORIES: