NEW YORK ( TheStreet) -- Spot gold prices were exhibiting greater strength Tuesday afternoon as gold investors began eyeing $2,500 and higher gold prices following the precious metal's $1,300 achievement.
"Gold prices are now moving through $1,300 and it's the beginning of the road to $2,500 gold prices and beyond, James DiGeorgia, publisher of the 'Gold and Energy Advisor' and author of 'The Trader's Great Gold Rush' said in a note. DiGeorgia for one is eying $1,400 to $1,500 gold prices by the end of the year, $2,500 shortly after that and maybe even $5,000 in the near future. DiGeorgia is among many gold investors who are concerned about an eventual collapse in the U.S. dollar and foresee a resulting flight to safety via gold and other precious metals. "Even as the dollar is sinking after decades of continuous inflation, even as foreign governments and local economists alike are recognizing that America is insolvent and broke, the printing presses are being cranked up," he said. The precious metals complex was showing some sparkle Tuesday afternoon. New York spot gold prices were popping by $13.70 or 1.1% at $1,308.30 an ounce.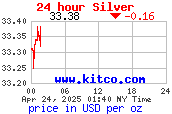 New York
spot silver prices
were firmer by 28 cents or 1.3% at $21.74 an ounce.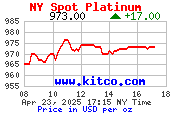 New York spot platinum prices were rising by $4 or 0.3% at $1,631 an ounce, while its sister metal was advancing.