NEW YORK (
TheStreet
) --
Gold prices
meandered lower Wednesday with trading cooling off after the metal set new record highs in the previous session. Gold for December delivery settled down $3 to $1,268.70 an ounce at the Comex division of the New York Mercantile Exchange. The gold price traded as high as $1,273.50 and as low as $1,264.50 during Wednesday's session. The
U.S. dollar index
was adding 0.25% to $81.43 while the euro was flat at $1.30 vs. the dollar. The spot gold price Wednesday was relatively flat, according to Kitco's gold index, as investors favored the physical metal over the futures market.
>>Preventing Your Government From Stealing Your Gold
Investors were taking a break in buying gold after the
metal's amazing rally Tuesday
when prices surged 2%. The metal was boosted by safe-haven demand and a weak U.S. dollar which plummeted on speculation that the
Federal Reserve
would announce more bond purchases at its meeting next week. The bond buying would in essence signal QE2, or quantitative easing round two, supported by the printing presses as the Fed tries to pump more money into the economy. That speculation was waning Wednesday, however, as rumors of differing opinions at the Fed seemed to make a dramatic move like QE2 unlikely in the short term. Alan Greenspan, former head of the Federal Reserve, said Wednesday at the Council on Foreign Relations that high gold prices point to a problem in currencies. If investors are fearful of weak paper money, they typically buy gold as a more stable form of currency. Greenspan called gold the "canary in the coal mine" to watch out for meaning that high gold prices could be indicative of problems elsewhere. Greenspan wasn't the only big name weighing in on gold Wednesday. Investor
George Soros
said at a
Reuters
event in New York that gold is the "ultimate bubble." Soros said prices may keep rising but that the rally wouldn't last forever. Ironically, Soros is the seventh largest shareholder in the popular gold exchange-traded fund,
SPDR Gold Shares
(
GLD
), with 5.24 million shares according to the most recent 13F filing for the second quarter. Soros Fund Management did unload 341,250 shares and its stake pales in comparison to
Paulson & Co.
, which has 31.5 million shares, but Soros' bet is still significant. Soros is also no stranger to gold stocks, he owns 13 including positions in
Market Vectors Gold Miners
(
GDX
), a basket of large-cap miners, and
Market Vectors Junior Gold Miners
(
GDXJ
), a combination of small miners. His biggest adjustment was in selling 5.8 million shares of the speculative explorer,
NovaGold
(
NG
). "He is right to warn," says Jon Nadler, senior analyst at Kitco.com. "He's not saying where the record is,
however." Nadler believes that Soros would never actually sell out of all of his gold positions because he has been on the gold boat for years. He is just wary of investors who have never owned gold up to this point and are now vocal advocates. "Ultimately he ... is treating gold properly. He is not looking at it for price appreciation ... if it was ... it probably prompted him to unload some... he is treating it as long-term insurance." The hope for bullish gold bugs now is that since the $1,266 resistance level was broken on strong volume that $1,300 would be in sight. But many analysts doubt the sustainability of the rally. "If we see the economic recovery strengthening ... there's going to be a shift from the actual gold as a safe haven towards more riskier assets ... that's going to push gold down quite significantly," says Toon van Beeck, senior industry analyst at IBISWorld.
Lehman Brothers
collapsed two years ago today, a trend started to develop of regular investors allocating a certain amount of their portfolio into gold. The
Dow Jones Industrial Average
has fallen 7.79% while the gold price has rallied 64%. The recommended percentage for gold in a portfolio is typically between 3%-10% depending on how aggressive the investor wants to be or just how much he needs to diversify against other assets. But gold is still underowned, and most investors aren't even close to the 3% allocation mark, leaving substantial rallies a potential catalyst to push retail investors into the metal. "Most investors tend to start buying when the price is higher," says Nick Barisheff, president and CEO of Bullion Management Group, which operates a gold only and a tri-metal mutual fund. "So when it's 25% off, no one is interested, but when it's up 25% we have an influx of more retail buyers."
Silver prices
settled up 14 cents to $20.57 after rallying 1.79% Tuesday while copper closed flat at $3.46. Although gold has hit new highs, silver has not. The metals' previous highs back in 1980 were $850 for gold and $50 for silver, which means that gold was 17 times the price of silver. Based on that ratio, silver "should" be as high as $94.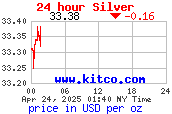 Gold mining stocks
, a risky but profitable way to
buy gold
, were mixed Wednesday.
New Gold
(
NGD
) was down 1% to $5.99 while
Gold Fields
(
GFI
) was adding 0.52% to $15.40. Other large gold stocks
Barrick Gold
(
EGO
) and
AngloGold Ashanti
(
AU
) were trading at $45.02 and $44.78, respectively. Shares of AngloGold were sinking 4.15% after the company announced an equity offering Tuesday of 15.8 million shares at $43.50. The company is hoping to raise $686 million. --
Written by Alix Steel in New York.
>To follow the writer on Twitter, go to
http://twitter.com/adsteel
.
Readers Also Like: