NEW YORK (
TheStreet
) --
Gold prices
lost steam Friday after a better-than-expected U.S. jobs number tamped down double-dip recession fears and led investors to dump gold for stocks. Gold for December delivery settled down $2.30 to $1,251.10 an ounce at the Comex division of the New York Mercantile Exchange. The gold price Friday has traded as high as $1,255.60 and as low as $1,239.20. The
U.S. dollar index
was slipping 0.43% to $82.10 while the euro rose 0.33% to $1.28 vs. the dollar. The spot gold price was down $3.60, according to Kitco's gold index. Gold prices took their cue from the U.S. jobs number which surprised and cheered investors. The unemployment rate rose to 9.6% but only 54,000 jobs were lost, which was much better than expected. The private sector added 67,000 jobs. Investors had been mixed on gold headed into the jobs number. Prices rose modestly Thursday as investors bought gold as protection, but the gold exchange-traded fund,
SPDR Gold Shares
(
GLD
), shed almost 10 tons as traders took profits. Gold prices recovered from session lows late Friday as volume stayed light. In reaction to the jobs number Friday, President Obama also hinted at another stimulus package, which will be unveiled in more detail next week. Questions remain about how the government would pay for additional stimulus. If the government resorts to money printing, gold prices would find support as the U.S. dollar loses value. In the short-term, most gold bugs will be looking to the fall, historically a strong buying period for gold. India's slew of festivals is expected to ignite massive gold jewelry buying. The gold price on average rises 2.5% in September which would bring prices to $1,285 an ounce. Some analysts, however, are dubious as higher prices might hurt demand in India's price sensitive market. Pratik Sharma, managing director at Atyant Capital, says that trends "work until they don't." "The one time that they don't can be very painful ... if everybody knows one thing and everybody's on one side of the trade the risk of ... the
risk of the
market moving in another direction is very high," Sharma said. Sharma can make both the long-term bull case and short-term bear case for gold. Fundamentally, global low interest rates and hints of more quantitative easing and stimulus in the U.S. could continue to weigh on currencies and make gold an attractive alternative form of money. The
Wall Street Journal
Friday reported that the local Muslim government in Kelantan, a Malaysian state, unveiled a gold coin as a substitute currency in August. People are now allowed to pay taxes and bills with silver and gold coins. Some experts speculate this is more of a revolt against the U.S. dollar than a fundamental shift in how governments deal with paper currencies. But many analysts have warned that when people start buying everyday items in gold, then that is a sign of a bubble.
Sharma also thinks the gold market is crowded and that people are too bullish, but believes in long-term higher gold prices. "For investors who have no gold right now I have one simple question for you -- what are you thinking?" Sharma says. Sharma recommends adding to a core position on price dips.
Silver prices
settled 27 cents higher at $19.94 while copper closed flat at $3.50.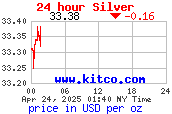 Gold mining stocks
, a risky but potentially profitable way to
buy gold
, were mixed.
AngloGold Ashanti
(
AU
) was up 0.18% to $43.93 while
Freeport McMoRan Copper & Gold
(
FCX
) was up 1.87% to $78.40. Other gold stocks
New Gold
(
NGD
) and
Gold Fields
(
GFI
) were trading at $6.38 and $14.62, respectively.
Goldcorp
(
GG
) announced this morning that it will buy
Andean Resources
, a precious metal explorer with a gold deposit in the Andes, for $3.4 billion. The project in Santa Cruz has 3.1 million ounces in gold resources and 25 million ounces of silver. Shares were trading almost more than 2% lower at $42.76. --
Written by Alix Steel in New York.
>To follow the writer on Twitter, go to
http://twitter.com/adsteel
.
Readers Also Like: