NEW YORK (
TheStreet
) --
Gold prices
reversed earlier losses Thursday as investors bought both riskier stocks and gold while technical traders loaded up on the precious metal. Gold for August delivery settled $3.80 higher to $1,195.60 an ounce at the Comex division of the New York Mercantile Exchange on low volume. The gold price Thursday has traded as high as $1,201.20 and as low as $1,180.70. The
U.S. dollar index
was losing 0.71% to $82.58 while the
euro was rallying
1.10% to $1.29 vs. the dollar as traders bet on the euro ahead of the Friday's "stress tests" results from 91 European Union banks. The spot gold price was rising more than $9, according to Kitco's gold index.
Risk appetite was improving Thursday
on better-than-expected earnings from U.S. companies, which helped stocks and also boosted gold prices. The eurozone manufacturing numbers for July beat expectations and European Union May industrial new orders also rose an unexpected 2.5% year over year. The upbeat data offset
Federal Reserve
Chairman Ben Bernanke's Wednesday remarks which described his economic outlook as "unusually uncertain" as well as rising weekly initial jobless claims. Bernanke wrapped up his testimony to the Committee on Banking, Housing and Urban Affairs Thursday. During his two-day testimony, Bernanke reiterated that inflationary pressures aren't a near-term concern. Those investors who were buying gold as a hedge against immediate inflation might have sold some of their positions, which gave a chance for technical traders and bargain-hunters to buy gold at "discount" prices. Gold still needs to close above $1,205 an ounce, however, for prices to move significantly higher. Bernanke's insistence that inflation is not a worry highlights the fact that deflation might be. High unemployment and stagnating prices might be a deflation cocktail, which, some believe, will give gold prices a strong boost over the long term. "Deflation, like inflation, means a crisis in money, and gold is always well-bid amidst monetary instability, let alone fear," argued Adrian Ash, head of research at
BullionVault.com
. As deflation destroys capital and purchasing power, investors might need a safer place to preserve the wealth. Weak currencies typically lead to higher gold prices as gold is a form of money that retains some type of value. A weak dollar is another factor helping gold prices today as the dollar-backed commodity is now cheaper to buy in other currencies. One wild card waiting in the wings for gold, especially the U.S. gold investor, is a provision in the Patient Protection and Affordable Care Act. Under the code, the Internal Revenue Service will be able to widen the Form 1099, used to monitor supplementary income and self-employed earnings, to include gold sales over $600.
The tax requires bullion dealers to fill out a 1099 form for any purchase over $600. Although the extra work will lead to a profit crunch for large bullion dealers, they will be able to survive, but the small dealers who will now be forced to hire more people to fill out the consequent paperwork could be crushed. Small coin dealers frequently buy gold from other dealers as well as the general public. Their participation in the market is what helps keep the gold market liquid and allows people to sell gold for cash. The new tax will severely hurt their ability to do business as well as curb customers' desire to sell their gold. Consumers were always required to pay taxes on their gold gains, but now the government will be tracking their gross proceeds. The provision will also require people to give personal information like social security numbers to bullion dealers, something they might be hesitant to do. As a result, consumers might wind up hoarding their gold rather than selling. If they do sell, dealers, who want to avoid the paperwork, might give the seller less money for their gold. "If the consumer sells a one-ounce coin
now, there is potentially no paper work," said Mark Albarian, president and CEO of Goldline International, one of the largest U.S. bullion dealers. "If the dealer now needs to do paperwork, he may lower the buyback price to cover the cost ... in the end the consumers suffer." If investors stay reluctant to sell, it could actually curtail the supply of gold in circulation, which would boost prices over the long-term. But it could also motivate investors to avoid physical gold altogether and look for other ways to preserve their wealth, which would weigh on demand and eventually hurt prices. "It might not change investor buying patterns," said Jon Nadler, senior analyst at Kitco.com, a Canadian bullion dealer unaffected by the tax. "But if I know some portions of the gold bug crowd, it will surely change their selling patterns. Look for even more of them to go 'underground' and start to barter gold with each other, possibly creating a virtual second tier market for gold." The pending tax won't go into effect until 2012 and its effects aren't yet filtering through the gold market. The repercussions will only change the physical gold market. Gold stocks, gold exchange-traded funds, and the paper gold market, the futures, will continue business as usual. Silver prices settled up 31 cents at $18.12 while copper closed 7 cents higher at $3.16.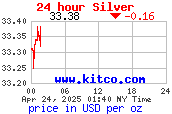 Gold mining stocks, an alternative way to invest in gold, were mixed. Freeport McMoRan Copper & Gold ( FCX) was popping 5.06% to $69.40 on while NovaGold ( NG) was down 1.72% to $6.28. Other gold stocks New Gold ( NGD) and Gold Fields ( GFI) were trading at at $4.95 and $13.07, respectively. -- Written by Alix Steel in New York.

Readers Also Like: