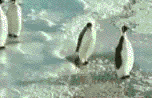 The battle has been fully engaged between bears focused on bad economic data and bulls jumping on good earnings. With options expiration already upon us, Da Boyz in the pits knew where to hunt down strike prices and exercise complacent holders. So after a week of light volume melt-ups, volatility and earnings data, the hard economic news hit bulls hard on heavier volume. This has been the ongoing trend in markets the past two months. The culprits today were selling on earnings news (even with estimates beaten); the ongoing litany of bad economic data (Consumer Sentiment implodes) and, of course, options expiration. As with previous sharp sell-offs volume increased and breadth most likely experienced one of those 10/90 (10 up, 90 down) days.
Continue to Major U.S. Markets
SPY:
So, after all the volatility we lose 1% on the week. A big deal? Not yet since support hasn't' been taken out yet. If it does get taken out the next stop is a "9" handle.
MDY & IWM:
The smaller they are the bigger they fall? Yep, that does seem to be the case.
QQQQ & XLK:
I wrote a short piece today (
The Mystery of the QQQQ
) which is on our website and at
TheStreet.com
regarding the different weights various indexes have with Apple. These differences are substantial and investors at least need to be aware of what they own. Continue to U.S. Market Sectors, Selected Stocks & Bonds
SMH, AAPL & GOOG
: Just a brief look at a couple of tech luminaries and the view isn't good. Apple seems to be in a trading range at a very high level while Google is just in a more obvious range.
JPM, C, BAC, KBE, KRE & XLF:
Just when everyone was expressing relief over the new FinReg situation earnings beats from many banks were sold Friday. Yeah, along with everything else.
XLB:
Materials were one sector telegraphic weakness for some time now.
XLY & XRT:
Consumer issues should be slammed with the crummy confidence data bogging them down.
IYR:
So, what's so good about this sector when commercial real estate component is mired in $1.3 trillion in debt? Not much other than perhaps individuals are turning to renters vs buyers.
IYT & $BDI:
The Baltic Dry Index tells a story of empty or idle ships not hauling heavy loads to China for example.
IEF & TLT:
Bonds just keep moving higher as economic data continues to show double dip potential.
Continue to Currency & Commodity Markets
$USD/ DXY & FXE:
I just can't make up my mind about this frankly. There's nothing much to like about the euro other than it's not the dollar. They have plenty of problems of their own. Nevertheless, this is where we're at.
FXY:
The yen is a logical choice even with all their problems. At least the country is full of savers.
GLD:
Gold came under attack perhaps due to options expiration in stocks as GLD was targeted.
DBC:
Commodity demand weakens with declining economic data meaning little demand for "stuff" like energy.
$WTIC/CRUDE OIL, XLE & BP:
Poor economic data drives down demand it seems while energy stocks remain a mess and BP traders have some fun.
DBB:
Base metals had a tough week obviously and that connects well with both the Baltic Dry Index and materials.
DBA:
Grains and Ag commodities in general are doing well despite the negative environment elsewhere. Inventories are much lower than first thought and crops from the southern hemisphere were below expectations.
Continue to Overseas & Emerging Markets
EFA:
European shares turned south quickly Friday wiping out previous gains.
EEM:
EM's have been relatively out of favor all week as U.S. stocks were preferred.
EWY:
Korean shares just couldn't avoid the crowd and fell back from resistance.
EWA:
Just another face in the crowd.
EWC:
North of the border things are okay relatively but EWA has fallen back to previous resistance levels.
EWZ:
There are worries about the Brazilian economy and future growth. Why should they be any different?
RSX:
Russian markets range bound like most other markets.
EPI:
India has been acting better but now it's joining the crowd and falling back near support.
FXI:
The slowdown in China seems to be taking hold and that's reflected by FXI.
The NYMO is a market breadth indicator that is based on the difference between the number of advancing and declining issues on the NYSE. When readings are +60/-60 markets are extended short-term.
The McClellan Summation Index is a long-term version of the McClellan Oscillator. It is a market breadth indicator, and interpretation is similar to that of the McClellan Oscillator, except that it is more suited to major trends. I believe readings of +1000/-1000 reveal markets as much extended.
The VIX is a widely used measure of market risk and is often referred to as the "investor fear gauge". Our own interpretation is highlighted in the chart above. The VIX measures the level of put option activity over a 30-day period. Greater buying of put options (protection) causes the index to rise. Continue to Concluding Remarks
There's little to add to all the volatility we're seeing. So far it's been a "traders" market and we seem to be just repeating the last two months of sharp declines on heavy volume followed by light volume melt-ups. It's important to note on July 7
th
$4.1 billion was withdrawn from equity mutual funds marking the largest withdrawal in 2010. Total withdrawals YTD not exceed $34 billion. Most money $6 billion has gone to bond funds. Have a great weekend! Let's see what happens. You can follow our pithy comments on
twitter
and become a fan of ETF Digest on
facebook
.
Disclaimer: Among other issues the ETF Digest maintains positions in: GLD, UDN, ULE and EPI
The charts and comments are only the author's view of market activity and aren't recommendations to buy or sell any security. Market sectors and related ETFs are selected based on his opinion as to their importance in providing the viewer a comprehensive summary of market conditions for the featured period. Chart annotations aren't predictive of any future market action rather they only demonstrate the author's opinion as to a range of possibilities going forward. More detailed information, including actionable alerts, are available to subscribers at
www.etfdigest.com
.