NEW YORK ( TheStreet) -- Spot gold prices have been flat Thursday afternoon as investors remain conflicted over their desire for cash and worries over economic reports signaling a slow recovery in the U.S. and a slowdown in China.
New York spot gold prices were trading sideways at $1,208.10 an ounce Thursday afternoon.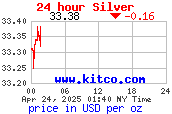 New York spot silver prices were flat at $18.31 an ounce.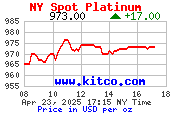 New York spot platinum prices, meanwhile, were up $6, or 0.4% to $1,527 an ounce, while its sister metal gained traction.