NEW YORK (
TheStreet
) --
Gold prices
traded sideways Thursday as investors balanced their fears over slowing growth in the U.S. and China with their need for cash. Gold for August delivery closed $1.30 higher to $1,208.30 an ounce at the Comex division of the New York Mercantile Exchange. The gold price Thursday has traded as high as $1,217.30 and as low as $1,203.70. The
U.S. dollar index
was slipping 1.09% to $82.51 while the
euro rallied 1.12% to $1.28 vs. the dollar
. The spot gold price Thursday was relatively flat, according to Kitco's gold index. Gold was volatile Thursday as prices came under some short-term pressure; investors sold their positions for cash or to cover losses in stocks. Gold prices had received an early trading boost on overnight news that
China's economy grew only 10.3% in the second quarter
vs. 11.9% in the first quarter. The report came on the heels of the
Federal Reserve's
release of the June FOMC minutes in which the
Fed downgraded the U.S. economy
. The Fed now expects 2010 growth to be between 3% and 3.5% vs. 3.2% and 3.7%. The slowdown was further underscored by still-high weekly jobless claims of 429,000. Although the growth forecasts from the U.S. and China were no major surprise, the news, coupled with weak U.S. June retail sales, was enough to rattle investors. However, one long-term implication is that if the Fed is forced to pump more money into the system to battle this slowing growth, inflation fears could take center stage again. Currently, inflation is off the table after the Labor Department reported that the producer price index fell 0.5% in June, and core inflation rose only 0.1%. But if the amount of money in circulation outpaces the amount of gold above ground, paper currencies will fall in value, and gold will retain its purchasing power. If these inflation fears are reignited, gold prices could see another bounce as traders re-establish their positions. Gold wasn't the only asset currently benefiting from this flight to safety. The yield on the 10-year Treasury note fell to 2.98%. Yields fall when demand strengthens because the government doesn't have to sweeten the pot as much to entice investors to lend the country money. Traders are more apt to settle for a lower yield in exchange for the perceived safety of the bond. Most analysts expect gold to stay volatile, "the recent ... range remains in place for the complex ... as price supporters and profit-takers duke it out each time gold reaches for either extreme of the charts near $1185 and/or near $1220," says Jon Nadler, senior analyst at
Kitco.com
.
But the question is how long the flight to safety trade will last as
U.S companies continue to report stronger-than-expected second-quarter earnings
. "Fear has been slowly but surely leaking out of the gold market since the metal reached an all-time pinnacle last month," Nadler said.
Silver prices
settled 7 cents higher at $18.36 while copper was flat at $3.01.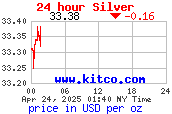 Gold mining stocks, an alternative way to
invest in gold
, were mixed.
New Gold
(
NGD
) was rallying 1.21% to $5 while
Gold Fields
(
GFI
) was up 0.45% at $13.35. Other gold stocks
Freeport McMoRan Copper & Gold
(
FCX
) and
Hecla Mining
(
HL
) were trading lower at $62.44 and $4.89, respectively. --
Written by Alix Steel in New York
.
Readers Also Like: