NEW YORK ( TheStreet) -- Spot gold prices are softer Wednesday afternoon, coming down after an earlier rally.
"Spot precious metals dealings opened the midweek session with growing losses following a stable overnight period, as the Wednesday recovery rally appeared to lose steam on waning safe-haven demand," Kitco analyst Jon Nadler wrote in a daily report. "Fear has been slowly but surely leaking out of the gold market since the metal reached an all-time pinnacle last month." New York spot gold prices were falling by $5.50, or 0.5%, to $1,205.80 an ounce Wednesday afternoon.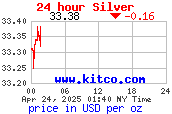 New York spot silver prices were flat at $18.28 an ounce.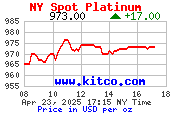 New York spot platinum prices, meanwhile, were losing $6, or 0.4% to $1,519 an ounce, while its sister metal was trading sideways.