NEW YORK (
TheStreet
) --
Gold prices
closed lower Wednesday after a voaltile trading day as weak economic data conflicted with strong earnings, and investors debated between risk and safe assets. Gold for August delivery lost $6.50 to $1,207 an ounce at the Comex division of the New York Mercantile Exchange. The gold price Wednesday has traded as high as $1,218.20 and as low as $1,202.50. The
U.S. dollar index
was losing 0.19% to $83.36 while the euro was rallying 0.07% to $1.27 vs. the dollar. The spot gold price Wednesday was slipping more than $3, according to Kitco's gold index. Gold prices were choppy all day as investors waffled between buying riskier stocks and gold as a safe haven. At first, blowout earnings from
Intel
(
INTC
) prompted a shift out of gold and into stocks as investors bet on riskier assets.
Intel reported its best quarter ever after the bell on Tuesday
and the news along with
gold's double-digit rally on Tuesday
led to a selloff in prices as investors took profits. Gold's selloff was short lived, however, as the Department of Commerce said June retail sales fell 0.5%, more than expected. The news spooked investors as they worried about a slow or nonexistent economic recovery, and gold resumed its appeal as a safe-haven asset. But gold couldn't hold on to its gains, and the precious metal closed lower as investors resumed their profit taking. Also briefly helping gold was a
weaker U.S dollar
. A weaker U.S. currency makes the dollar-backed commodity less expensive to buy in other currencies. Gold pushed through the $1,205 level on safe-haven buying Tuesday but could not rise above $1,225 an ounce. Many analysts believe that gold will continue to stay in a tight range for the summer as investors digest earnings results and economic data, which could shed light on the viability of a global economic recovery. Summer is also a slow buying period for gold with a lack of festivals in India, the world's largest consumer of physical gold. Demand picks up again in August and fall during India's wedding season, which typically pushes prices higher. "I think we'll probably be in
the $1,200-$1,265 range for most of the summer," says Brian Hicks, co-manager of the U.S. Global Investors Global Resources Fund. " Then I think we will break out above that sometime in the fall when we hit that seasonally strong period for gold." The popular gold exchange-traded fund, SPDR Gold Shares ( GLD), remains unchanged at 1,314.8 tons, signaling that while investors might alter some gold positions their core holdings are consistent.
Silver prices
closed up 3 cents to $18.29 while copper ended the day flat at $3.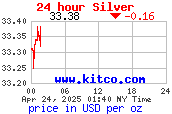 Gold mining stocks, an alternative way to
invest in gold
, were mixed.
Hecla Mining
(
HL
) was slipping 1% to $4.92 while
Freeport McMoRan Copper & Gold
(
FCX
) was losing 1.28% to $63.30. Other large gold stocks such as
New Gold
(
NGD
) and
Gold Fields
(
GFI
) were trading at $4.96 and $13.26, respectively.
--
Written by Alix Steel in New York
.
Readers Also Like: