NEW YORK ( TheStreet) -- Spot gold prices have been popping over renewed European sovereign debt concerns after Moody's cut Portugal's credit rating by two notches to A1, which cited feeble economic growth and debt worries.
New York spot gold prices were up by $15.90, or 1.3%, to $1,213 an ounce Tuesday afternoon.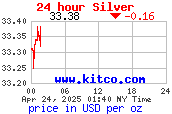 New York spot silver prices were up 34 cents, or 1.9%, to $18.25 an ounce.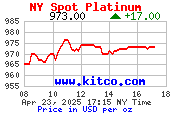 New York spot platinum prices, meanwhile, were adding $12, or 0.8% to $1,525 an ounce, while its sister metal was gaining traction.