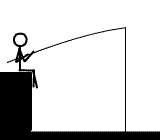 Volume still matters, doesn't it? It seems not as the financial media ignores our light volume market in favor of writing bullish headlines. With hedge funds mostly sidelined according to reports posted here yesterday, the primary buyers must be trading desks on Wall Street and a handful of algo traders. It's tempting to come off the sidelines and join the fun but perhaps it's just the trap they're laying for you. A headline at Reuters read this afternoon: "Weaker Economic Views Equals Stronger 3-Year Note Sale". So, if equity markets are forward-looking one must wonder what these few buyers are seeing beyond a short-term trade. Headline writers say its strong earnings growth that will prop markets coupled with rosy outlooks. That would have to be the case otherwise this is just a sucker's rally. As stated, volume was holiday-like light (40% below average) making it really easy for the machines to take over trading, and so they did. Breadth was quite positive once again.
The NYMO is a market breadth indicator that is based on the difference between the number of advancing and declining issues on the NYSE. When readings are +60/-60 markets are extended short-term.
The McClellan Summation Index is a long-term version of the McClellan Oscillator. It is a market breadth indicator, and interpretation is similar to that of the McClellan Oscillator, except that it is more suited to major trends. I believe readings of +1000/-1000 reveal markets as much extended.
The VIX is a widely used measure of market risk and is often referred to as the "investor fear gauge". Our own interpretation is highlighted in the chart above. The VIX measures the level of put option activity over a 30-day period. Greater buying of put options (protection) causes the index to rise. Continue to Major U.S. Markets