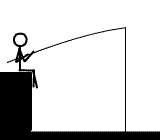 Volume still matters, doesn't it? It seems not as the financial media ignores our light volume market in favor of writing bullish headlines. With hedge funds mostly sidelined according to reports posted here yesterday, the primary buyers must be trading desks on Wall Street and a handful of algo traders. It's tempting to come off the sidelines and join the fun but perhaps it's just the trap they're laying for you. A headline at Reuters read this afternoon: "Weaker Economic Views Equals Stronger 3-Year Note Sale". So, if equity markets are forward-looking one must wonder what these few buyers are seeing beyond a short-term trade. Headline writers say its strong earnings growth that will prop markets coupled with rosy outlooks. That would have to be the case otherwise this is just a sucker's rally. As stated, volume was holiday-like light (40% below average) making it really easy for the machines to take over trading, and so they did. Breadth was quite positive once again.
The NYMO is a market breadth indicator that is based on the difference between the number of advancing and declining issues on the NYSE. When readings are +60/-60 markets are extended short-term.
The McClellan Summation Index is a long-term version of the McClellan Oscillator. It is a market breadth indicator, and interpretation is similar to that of the McClellan Oscillator, except that it is more suited to major trends. I believe readings of +1000/-1000 reveal markets as much extended.
The VIX is a widely used measure of market risk and is often referred to as the "investor fear gauge". Our own interpretation is highlighted in the chart above. The VIX measures the level of put option activity over a 30-day period. Greater buying of put options (protection) causes the index to rise. Continue to Major U.S. Markets
SPY:
The volume is pitiful but the readings this week were excellent. I can't say I'm sold on this snapback rally with no volume. But this is what we've been seeing for some time now--low volume rallies and high volume sell-offs. This is usually a sign of widespread distribution.
MDY & IWM:
There is little difference one market to the next and a lot of this is still because of zero interest rates as investor's brush-off negative data and focus on trading.
QQQQ & GOOG:
Well, so much for "don't be evil"
as it applies to such naughty terms as Tiananmen Square, religion or controversial commentary. I guess we can toss that company credo in the toilet.
"Don't be evil." Googlers generally apply those words to how we serve our users. But "Don't be evil" is much more than that. Yes, it's about providing our users unbiased access to information, (except in China) focusing on their needs and giving them the best products and services that we can. But it's also about doing the right thing (except in China) more generally -- following the law, acting honorably and treating each other with respect.
The Google Code of Conduct is one of the ways we put "Don't be evil" into practice. It's built around the recognition that everything we do in connection with our work at Google will be, and should be, measured against the highest possible standards of ethical business conduct (except in China). We set the bar that high for practical as well as aspirational reasons: Our commitment to the highest standards helps us hire great people, who then build great products, which in turn attract loyal users. Trust and mutual respect among employees and users are the foundation of our success, and they are something we need to earn every day.
Continue to U.S. Market Sectors, Selected Stocks & Bonds
XLF:
Financials have been going nowhere no for the last year in a long trading range.
XLB:
Just when it looked like materials were falling off a cliff bulls stepped-in on light volume and met little resistance. Alcoa is up first after the close on Monday. Consensus earnings are 12 cents while JPM just cut their estimate to 10 cents from 15 cents on Wednesday. Alcoa always presents a murky picture with lots of write-offs and strange things clouding the picture. I guess it's more about their outlook that will matter.
XRT:
We can overlook mixed to poor chain store sales when program trading takes things higher.
IYR:
This sector is a pure yield play for those who are looking for high yields and ambivalent about risks.
IYT:
So we look at IYT and see that it's a mixed bag of airlines, truckers, shippers, freight railroads and ocean and etc. The Baltic Dry Index shows tremendous weakness yet the next set of charts from the American Association of Railroads shows good growth in traffic. You will note the Average Weekly Carloads are coming down lately in 2010 but that's the only negative there.
IEF & TLT:
Monday the Treasury will auction $35 billion in 3-year notes and according to
this report
things should go just fine since the economic recovery will be slow. Hmm, I guess that's why stocks are rallying. No matter, most insiders feel the bond auctions are a rigged affair. It didn't hurt matters that our Treasury department was on bended knee with China this week with the comical statement that the "yuan was too low but not manipulated". Didn't that make you want to puke? Continue to Currency & Commodity Markets
$USD/DXY, FXE, FXY, FXA & CNY:
The charts speak for themselves but the popular trade on the floor is the carry trade: long FXA, short FXY.
GLD:
Gold rallied sharply Friday to undo most of the week's losses. The relationship between currency movements and gold is in a strange state. Generally, as the dollar falls, gold rises. This is not the case currently but we live in interesting times given eurozone issues.
DBC:
A good week for grains, metals and energy pushes DBC higher.
$WTIC/CRUDE OIL:
Weekly oil inventories were below expectations causing prices to rise sharply within the range.
XLE & BP:
So the word is out that BP will cap the leak soon. That's great news! Now about that oil meandering about and poisoning the environment...
DBB:
Base metals didn't finish the week with the gusto one would have expected but nonetheless a good week.
DBA:
Grains were strong but livestock and softs were erratic holding back previous gains.
Continue to Overseas & Emerging Markets
EFA:
Trichet and Co. kept things alive in Europe with their own version of "stress tests" that were remarkably similar to our own whereby banks can hide toxic waste by marking them to a model vs market. Hey, whatever works right?
EEM:
Up with commodities and everything else frankly.
ILF
: Latin America ETF is dominated by the usual suspects Brazil, Mexico and Chile.
EEB:
The markets are all in lock-step with one another and it's only the degree of increase or decline that varies. Continue to Concluding Remarks
You could hardly have a more bullish headline than Friday's or the week as a whole. No one in the financial media will comment and/or look negatively on the light volume. I wish there were times when such a reading wasn't important to us but it is. Next week earnings start rolling out. Then we'll see if good earnings especially coupled with good outlooks trump crummy economic data. In this environment, perhaps only the HAL 9000s know. Have a great weekend! Let's see what happens. You can follow our pithy comments on
twitter
and become a fan of ETF Digest on
facebook
.
Disclaimer: Among other issues the ETF Digest maintains positions in: GLD.
The charts and comments are only the author's view of market activity and aren't recommendations to buy or sell any security. Market sectors and related ETFs are selected based on his opinion as to their importance in providing the viewer a comprehensive summary of market conditions for the featured period. Chart annotations aren't predictive of any future market action rather they only demonstrate the author's opinion as to a range of possibilities going forward. More detailed information, including actionable alerts, are available to subscribers at
www.etfdigest.com
.