NEW YORK (
TheStreet
) --
Gold prices
settled slightly higher Wednesday as investors digested reports that China might stop buying gold and that central banks swapped gold for cash, both of which colored the gold market with uncertainty.
U.S. dollar index
was down 0.30% at $83.83 while the euro was rallying 0.11% to $1.26 vs. the dollar. The spot gold price Wednesday was adding more than $9, according to Kitco's gold index. Gold prices clawed their way back from negative territory Wednesday to close near $1,200 an ounce as bargain hunters jumped into the gold market to take advantage of gold's 1.4% weekly decline. Gold had a rough start Wednesday as investors digested confusing news from China and the Bank for International Settlement.
China's State Administration of Foreign Exchange
said that the country will not add more gold to its reserves, citing dwindling supply and lack of liquidity. China currently has 1,054 tons of gold in its reserves, just under 2% as compared to the U.S. which has more than 70%. Many analysts were looking to central bank buying, particularly from Asia, as a key support for higher future gold prices. Central banks have recently shifted from being net sellers of gold to net buyers. Over the last five years, China has increased its reserves from 600 tons to 1,054 tons. But all of Asia only holds about 2% to 3% of its reserves in gold according to Natalie Dempster, head of investment for the World Gold Council, where the optimal allocation is between 2.4% and 8% depending on a country's risk tolerance. Smaller central banks like Sri Lanka, Maresias and Kazakhstan have also been buying small tonnage. Any central bank buying could trigger momentum buying as investors follow suit and buy gold as an alternative asset. More and more reports indicate that central banks may not come through this time, however, and China's rejection of more gold is a big blow to bulls. "Central banks, I think for the moment, are on hiatus," says Jon Nadler, senior analyst at
Kitco.com
. George Milling-Stanley, managing director of the World Gold Council, disagrees and argues that this report was nothing new. He believes that China didn't say it wouldn't buy more gold, just that it wouldn't be a main channel for investing its foreign reserves. Milling-Stanley says this report has "more to do with the U.S. treasury market than it does with the gold market." China was trying to reassure the U.S. that it would keep lending the country money.
Also disrupting gold prices was a report from the Bank for International Settlement, a bank for central banks, which indicated that central banks or commercial banks have been putting gold up for collateral for cash since December 2009. This 349-ton gold swap is leading to a lot of uncertainty among gold investors. The fact that banks might have been forced to swap gold for cash highlights the lack of liquidity and economic hardship facing a global recovery while also making gold a real form of money. "Any use of gold by the official sector, as opposed to just straightforward selling, rather enhances gold's monetary role and financial status," says Philip Klapwijk, executive chairman of GFMS Research Group. The long-term problem arises if central banks wind up defaulting on these loans, forcing the BIS to sell the gold in the open market to recoup their losses. For those who believe that the gold market is manipulated -- one of the most hotly-debated topics among gold bugs -- the BIS report was confirmation of their suspicions. Peter Grandich, editor of The Grandich Letter, argues that central banks can "create money out of nothing" and with the Federal Reserve making currency swaps readily available, "why did any central bank have to lend its gold to get dollars?" Grandich suspects some kind of push to circulate more gold into the market to keep prices lower. Regardless of why the gold swap took place, the lack of clarity from the BIS and central banks curbed investors appetite for gold. A significant push below $1,200 also triggered sell stop orders from investors, which means when gold prices hit a certain price, they were forced to sell to lock in profits.
"The metal could look to re-test the mid-May lows around $1165
an ounce
," says James Moore, analyst at
thebulliondesk.com
in his daily metals report. The popular gold exchange-traded fund,
SPDR Gold Shares
(
GLD
), also lost another 2.43 tons on Tuesday, but Moore notes that European-listed ETFs are seeing continued strength. "With little change in the macro-economic and European debt picture there is little at present to suggest this is anything other than a short-term correction, which we believe investors will again view as a buying opportunity." Later in the trading day, investors shifted gears and rotated into gold, giving prices some much needed momentum. Silver prices rallied 14 cents to $18 while copper closed 4 cents higher to $3.01.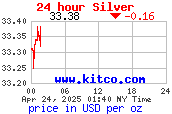 Gold mining stocks, a more risky but more profitable way
to invest in gold
, were rallying slightly with broader equities.
Kinross Gold
(
KGC
) was adding 1.07% to $16.13 while
Agnico-Eagle
(
AEM
) was rallying 1.43 % to $57.51. Other large gold stocks
Eldorado Gold
(
EGO
) and
Gold Fields
(
GFI
) were trading at $16.57 and $13.08, respectively.
--
(symbol) by Alix Steel in New York
.
Readers Also Like: