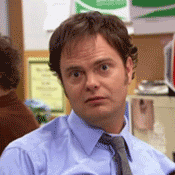 The market is broken. It's driven by machines and these last-minute trades (whether buying or selling) are making a mockery of things. First, there was little news to account for any rally Tuesday. In fact, the only news was negative from ISM Services which came in below expectations and down from previous readings--another indication of an economic slowdown. The only thing noted previously was markets were technically short-term oversold. This we can see looking at a variety of indicators but for us the DeMark
daily
"9" set-up showed a pause or reaction was possible today. Below is a daily chart of DIA (SPDR Dow Jones Industrial ETF) with DeMark and other annotations. You can see the "9" recorded Friday which led to the reaction today. That's about all I can read from the action today beyond copy-cat action from overseas markets.
Meanwhile, volume was relatively light given all the early bullish action while breadth was mixed.
The NYMO is a market breadth indicator that is based on the difference between the number of advancing and declining issues on the NYSE. When readings are +60/-60 markets are extended short-term.
The McClellan Summation Index is a long-term version of the McClellan Oscillator. It is a market breadth indicator, and interpretation is similar to that of the McClellan Oscillator, except that it is more suited to major trends. I believe readings of +1000/-1000 reveal markets as much extended.
The VIX is a widely used measure of market risk and is often referred to as the "investor fear gauge". Our own interpretation is highlighted in the chart above. The VIX measures the level of put option activity over a 30-day period. Greater buying of put options (protection) causes the index to rise. Continue to Major U.S. Markets