NEW YORK (
TheStreet
) --
Gold prices
were plummeting double digits Tuesday as investors resumed trading after the long holiday weekend and dumped gold for stocks. Gold for August delivery settled $12.60 lower to $1,195.10 an ounce at the Comex division of the New York Mercantile Exchange. The gold price has traded as high as $1,215.10 and as low as $1,189.50. The
U.S. dollar index
was falling 0.60% to $84.03 while the
euro was adding 0.60% to $1.26
vs. the dollar. The spot gold price Tuesday was falling more than $15, according to Kitco's gold index. Traders sold gold Tuesday and used the money to buy stocks as risk appetite got a jumpstart after the July 4 holiday. Global markets helped fuel an early triple-digit rally in the
Dow Jones Industrial Average
despite a disappointing jobs number Friday and a bigger-than-expected decline in the
service sector report
, which monitors growth in the services, construction and local government areas. The Dow pulled back later in trading but investors still left their safe haven positions in gold. Gold prices closed below the $1,200 level and many analysts are now looking for prices to retest $1,180 an ounce. "Below $1,200-an-ounce gold could fall to support at $1,175 an ounce and $1,140 an ounce," says Mark O'Byrne, executive director of GoldCore, a international bullion dealer. "A fall to such low levels would likely be paper driven ... but gold would be well supported at these levels ...
as
significant physical demand recommences." Gold's summer doldrums are nothing new, however. The season is typically met with slow buying in the absence of festivals or wedding seasons in China and India. Prices tend to come under pressure and rally in August ahead of the busy fall wedding period. The Bombay Bullion Association was forecasting that gold imports into India, the largest consumer of gold jewelry in the world, might be 75% lower than a year ago. However, if gold continues to fall below $1,200 an ounce, this could entice some price-sensitive consumers. According to reports, Indian bullion banks were showing strong demand for physical gold on prices' recent correction.
Silver prices
closed 13 cents higher to $17.84 while copper added 5 cents to $2.97. Investors cheered the overnight news from the Reserve Bank of Australia that the country's economic growth is on track because it underscored strong raw material demand from China. Australia's economy is closely tied to metal consumption in China, as the country is one of Australia's most robust importers. The bullish news supported higher prices Tuesday despite gold's selloff.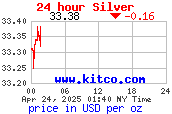 Gold mining stocks, a more risky but more profitable way
to invest in gold
, were mixed despite a big rally in the broader equity market.
Kinross Gold
(
KGC
) was down 1.90% to $15.99 while
Agnico-Eagle
(
AEM
) was falling 1.39% to $56.70. Other large gold stocks
Eldorado Gold
(
EGO
) and
Yamana Gold
(
AUY
) were trading at $16.13 and $9.52, respectively. The popular gold ETF,
SPDR Gold Shares
(
GLD
) lost about half a ton on Friday as investors opted to sell some of their gold positions.
--
Reported by Alix Steel in New York
.