NEW YORK (
TheStreet
) --
Gold prices
settled slightly higher Friday on the back of a lackluster government jobs report and as investors adjusted their positions ahead of the long weekend. Gold for August delivery settled $1 higher to $1,207.70 an ounce at the Comex division of the New York Mercantile Exchange. The gold price Friday has traded as high as $1,214 and as low as $1,198.80 on thin volume. The
U.S. dollar index
continued its decline, slipping 0.29% to $84.47 while the euro continued its gains adding 0.06% to $1.25 vs. the dollar. The spot gold price Friday was rising more than $8, according to Kitco's gold index. Investors were opting for physical gold over paper gold as traders unwound some of their future contracts ahead of the holiday weekend. An uneventful U.S. nonfarm payrolls report also helped to keep demand tame. The Labor Department said the unemployment rate for June slipped to 9.5%, which was positive news -- economists were expecting the unemployment rate to rise to 9.8%. However, nonfarm payrolls declined by 125,000 in June, reflecting a decrease in the number of temporary employees working on Census 2010. Only 83,000 private sector jobs were added last month, which was weaker than expected. A substantial amount of bad news was already priced into the market headed into the report, so investors had little need to rush into gold as a safe haven asset.
Gold prices plummeted almost 3% Thursday
after a slew of disappointing U.S. economic data hit as well as a successful $4.3 billion bond auction in Spain. The surprise shift of good news out of the eurozone and bad news from the U.S. ignited a euro rally and dollar selloff that led investors to unwind their safety hedges in gold. Many traders had been betting against struggling European economies by shorting the euro and buying gold. As fear abated, they were forced to adjust their trades. However, the popular gold exchange-traded fund,
SPDR Gold Shares
(
GLD
), shed a little more than a ton Thursday on gold's big selloff as the majority of investors appeared to stay committed to the precious metal for the long-term. Traders are also rebalancing their portfolios ahead of a long U.S. holiday weekend. Traditionally, investors on Fridays have been opting for cash rather than stocks and commodities to protect them against headline risk, which might temper gold's upside. But a weak dollar and traders looking to buy gold at a "discount" could push prices higher.
A weaker U.S. currency makes gold, a dollar-backed commodity, less expensive to buy in other currencies. Although gold recently has been bucking its inverse correlation to the U.S. dollar, the fact that the currency sunk to a five-week low against the euro could push more investors into "cheaper" gold. Some analysts, however, are more skeptical. Gold broke through its critical support level of $1,225 an ounce Thursday, which has some wondering if gold will continue lower in the summer months, typically a weak buying season for physical gold. The $1,225 level "was, in fact, a very important so-called reaction low which needed to be maintained ," says Jon Nadler, senior analyst at
Kitco.com
. "We could be looking into the $1,175, $1,180 area as a next target and the tug of war will continue between the longs and the shorts ... I think you have a combination of quest for cash as the new quarter begins and asset allocators look for alternatives to what they've been doing up until now."
Silver prices
closed 6 cents softer at $17.70, while copper settled 3 cents higher at $2.91.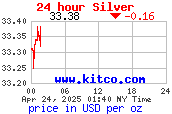 Gold mining stocks, a more risky but more profitable way
to invest in gold
, were rallying.
Freeport McMoRan Copper & Gold
(
FCX
) was rising 0.45% to $58.44, while
Gold Fields
(
GFI
) was adding 1.25% to $12.95. Other gold stocks
New Gold
(
NGD
) and
Kinross Gold
(
KGC
) were trading at $6.07 and $16.37, respectively.
--
(symbol) by Alix Steel in
.