NEW YORK (
TheStreet
) --
Gold prices
were popping Friday on technical trading and signs that the U.S. economy is slowing, which prompted another flight to safety into gold. Gold for August delivery settled $10.30 higher to $1,256.20 an ounce at the Comex division of the New York Mercantile Exchange. The gold price today has traded as high as $1,259.50 and as low as $1,241.60. The
U.S. dollar index
was slipping 0.51% to $85.32 while the euro was adding 0.39% to $1.23 against the dollar. The spot gold price Friday was popping more than $10, according to Kitco's gold index. Gold prices made a run to conquer their previous record of $1,264 an ounce, on strong technical trading and safe haven buying, although prices stopped short of the $1,260 level. Part of gold's move Friday was short covering and book squaring, which ramped up as the second-quarter came to a close. Also, headed into summer weekends, investors are opting for cash and gold as a safe place to put their money to protect themselves against negative headline news. Another part of gold's rally was relief that the markets finally have the specifics on the
financial regulation bill
. A final bill is expected to be approved by Congress next week and by President Obama before July 4th. The big news for gold bugs was the fact that investment banks do not have to leave the gold business and will still be able to use 3% of their funds to trade the market. They'll also be able to use credit default swaps in "safe" assets like gold to hedge risk. The final factor moving gold prices was risk aversion. The U.S.' first-quarter
GDP number was revised down
for a third time to 2.7%, indicating that the U.S. economy was growing much slower than expected. "Bullion was higher on short-covering and technicals," says Jon Nadler, senior analyst at Kitco.com. "But participants were likely eyeing the GDP data with an expectation that risk appetite would suffer in its wake and that safe-haven plays were shaping up as the play of the day." The popular gold ETF,
SPDR Gold Shares
(
GLD
), added another 3.04 tons on Thursday as investors continued to buy the precious metal as the
Dow Jones Industrial Average
sunk triple digits.
Gold is the ultimate safe haven asset and investors turn to the commodity as a form of money that retains some value as paper currencies struggle. The U.S. dollar was also receiving a safe haven bid from investors. The yield on the 10-year Treasury note was at 3.11%, slightly higher from their recent lows, but still indicating that investors are more than willing to lend money to the U.S. at a low price. Some potential risks for gold in the short-term are profit taking and investors' need for cash. With gold popping almost 12% this year, investors could sell some of their positions to make money off one of the only assets to yield a positive return. In addition, if the stock markets get much worse and traders take a big hit in equities, they might be forced to sell some gold to fund these losses.
Silver prices
settled much higher at 37 cents to $19.11 while copper ended up 9 cents at $3.09.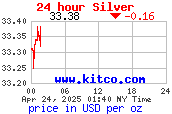 Gold mining stocks, a more risky and more profitable way to
invest in gold
, were popping while broader equities struggled.
Kinross Gold
(
KGC
) was rising 3% to $18.51 while
Agnico-Eagle
(
AEM
) was adding 2.82% to $63.10. Other large gold companies
Eldorado Gold
(
EGO
) and
Hecla Mining
(
HL
) were trading at $18.35 and $5.77, respectively.
-- Written by Alix Steel in New York.