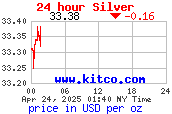 Now at these levels, are you buying them all right now? Or are you just buying silver, platinum and palladium?
Rogers
: I bought some silver recently
but I
have not bought the others recently.
But you're not selling them either?
Rogers
: No, it's
going to
be a huge bubble in precious metals by the end. I don't know when that will be; ask me in 2018, 2020 ... Most long-term bull markets wind up in a huge mania, a huge bubble before it's over and this one will too. Someday, everybody will own gold. Someday, people will be walking down the streets checking gold prices in front-shop windows. No, in the end, it's going to be a huge bubble.
If an investor didn't own gold right now, would you tell them it's safe to buy right here at the top?
Rogers
: I've said before, if I were looking at precious metals I would be looking at the ones that haven't moved as much. If one doesn't own gold, and one doesn't want to buy the others for whatever reason, one should start waiting for some sort of correction and then buy some gold. But as I said, the others are much more depressed historically than is gold.
Do you like gold coins, silver coins, or are you looking at a different way of investing?
Rogers
: I own coins and futures for all of them.
Moving out of gold, what else do you like right now? You bought the euro two weeks ago? How come?
Rogers
: Well, the euro was so beaten down. Everybody in the world was pessimistic about the euro, including me. So I realized normally when there's that kind of emotion in the market, it's time to step in and take the other side. So I bought euro. I own the euro. I don't know what I'm
going to
do with it. But I do own it at the moment.
Do you think that the EU's going to survive?
Rogers
: Well, I don't think that the euro's going to survive. Not at the rate they're going now. I don't think they'll be around in 10 years. If the euro breaks up, it will probably put huge pressures on the EU, and it will probably fall apart too. It's conceivable, you can get rid of the euro and still have the EU. But if the euro starts breaking up, it'll be a lot of emotions and in that kind of a situation, the EU will probably break up too, which will not be good for the world.