NEW YORK (
TheStreet
) --
Gold prices
nose-dived double digits Monday after
China's announcement that the yuan would rise in value
improved risk appetite and prompted investors to dump gold and buy stocks. Gold for August delivery settled down $17.60 to $1,240.70 an ounce at the Comex division of the New York Mercantile Exchange. The gold price Monday has traded as high as $1,266.50 and as low as $1,233.60. The
U.S. dollar index
was adding 0.23% to $85.90 while the euro was falling 0.45% to $1.23 against the dollar. The spot gold price Monday was down more than $20, according to Kitco's gold index. Risk appetite improved Monday as investors cheered a stronger yuan and traders were selling gold and using the profits to buy stocks. "Profit taking in gold
was
apparent," says George Gero, vice president of global futures at RBC Capital Markets. "Gold open interest on Comex now shows lot of newcomers
who
may be weak short term holders and second thoughts prompted sell stops." However, many analysts believe a stronger yuan is good news for gold prices over the long-term as the move will improve China's purchasing power.
The yuan was rising 0.45% against the dollar
and the currency could appreciate by 3% this year, a slow and steady climb. Some analysts argue that the yuan is undervalued by as much as 40%. Gold is a dollar-denominated asset and typically trades inversely to the U.S. currency. As the U.S. dollar slips, gold becomes cheaper to buy in other currencies and gold prices rise. When China first let the yuan appreciate almost 20% between 2005 and 2008, gold prices touched $1,000 an ounce for the first time. History shows that other currency appreciation scenarios have yielded stronger gold demand. "If you follow the Indian market like I do whenever the rupee appreciates Indian gold demand accelerates because obviously it's cheaper ... The
Chinese
government itself has been encouraging the citizenry to buy gold and silver and if the yuan rises I suspect that will facilitate the buying of more gold and silver," said John Embry, chief investment strategist of Sprott Asset Management. Gold demand in China has steadily strengthened since 1992 accounting for 11% of global gold demand in 2009. The World Gold Council sees demand doubling in the next 10 years from $14 billion to $29 billion and analysts think a stronger yuan could be a catalyst. Juan Carlos Artigas, investment research manager at the World Gold Council, says that "holding other things constant, if the yuan appreciates against the dollar, gold becomes more attractive for the Chinese consumer as the price of gold in RMB
terms
falls."
Gold prices and the U.S. dollar, however, don't have a perfect inverse correlation. As the European sovereign debt crisis ballooned throughout 2010, investors fled into both gold and the U.S. dollar as a safe-haven asset.
Over the past two years, as the chart indicates, there have been times when gold prices have made new highs despite dollar strength, so for some analysts a stronger yuan leading to higher gold prices is not necessarily a foregone conclusion. A stronger yuan also means that Chinese goods will cost more to sell in other countries. This shift could hurt overseas sales and stifle the disposable income of the fledging middle class, which is made up of typically strong gold jewelry consumers. Currently China's per capita gold consumption level lags behind most other major gold buying countries.
Many analysts believe that gold consumption per capita will grow as the Chinese middle class keeps buying gold jewelry as gifts for holidays, weddings and celebrations. Any crimp in their disposal income could curb demand and weigh on prices. For the short term, most analysts expect gold prices to stay volatile. Gold settled at a record level Friday of $1,258.30 an ounce and rose 2.3% last week. The popular gold exchange-traded fund,
SPDR Gold Shares
(
GLD
), added 1.83 tons to a record of 1,307.96 as investors loaded up on the precious metal. Higher prices can trigger profit taking but on the flip side headline risk could boost demand for gold as a safe haven asset. A supporting factor for higher gold prices was also a report from the World Gold Council that Saudi Arabia increased its gold holdings by 125% to 322.9 tons from the first quarter of 2008 to the first quarter of 2010. The shift is being attributed to a host of reasons from an accounting error to a shift in asset diversification. Based on these figures, Saudi Arabia's gold holdings still account for just 3.5% of the country's total gold reserves, as compared to the U.S. which has 74%. Saudi Arabia's reallocation illustrates the shift of central banks from being net sellers of gold into net buyers. Waiting in the wings is the release of the EU nations' bank stress tests in July. Any bad news could spook already jittery investors and trigger another flight to safety into gold.
Silver prices reveresed earlier losses
and settled 37 cents lower to $18.80 while copper closed up 5 cents to $2.94.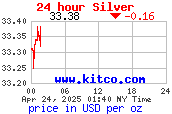 Gold mining stocks, a more risky but more profitable way to
invest in gold
, were losing steam.
Agnico-Eagle
(
AU
) was down more than 3% to $62.78 while
Eldorado Gold
(
EGO
) was losing 2.78% to $17.86. Other gold stock such as
Harmony Gold
(
HMY
) and
Hecla Mining
(
HL
) were down at $10.17 and $5.69, respectively. --
Written by Alix Steel in New York
.
Readers Also Like: