NEW YORK (
TheStreet
) --
Gold prices
stalled Wednesday as traders searched for direction and debated between riskier assets and gold as a safe-haven investment. Gold for August delivery settled $3.90 lower to $1,230.50 an ounce at the Comex division of the New York Mercantile Exchange. The gold price Wednesday has traded as high as $1,239.50 and as low as $1,228.30. The
U.S. dollar index
was adding 0.02% to $86 after a steady decline Tuesday. The euro gave back some of its gains and was slipping 0.07% t0 $1.23 against the dollar. The spot gold price Wednesday was slipping more than $4, according to Kitco's gold index. Investors buying gold as a safe-haven asset
pushed prices past the $1,230 resistance area Tuesday
but prices were treading water today with gold and the
Dow Jones Industrial Average
searching for direction
. Gold's move past $1,230 an ounce prompted some profit-taking but investors, worried over the health of Spain and other European Union nations, also supported prices. Gold prices were little changed after the Labor Department released its May inflation numbers. The producer price index dropped 0.3% in May while core inflation rose 0.2%, which is slightly ahead of estimates. A light inflation reading will prompt the Federal Reserve to keep key interest rates low and backs up Chairman Ben Bernanke's statement last Wednesday that inflation was not an issue. Traders who had been buying gold as an inflation hedge sold out of the precious metal on Bernanke's statements last week and prices settled $15 lower. Some analysts are looking for gold to resume its inverse correlation to the U.S. dollar, which could weigh on prices. A stronger currency makes dollar-backed commodities more expensive to buy in other currencies. Gold prices had been bucking this trend for the past few weeks as spooked investors fled stocks for the safety blanket of the U.S. dollar and gold.
The euro's recent rally
was helping the dollar and hurting gold but some analysts expect its strength to be short-lived. The EU is still being forced to deny rumors of a bailout plan for Spain and markets are losing confidence. The yield on Spain's 10-year bonds has risen to 4.79% as investors backed away from lending to the country. Any more bad headlines out of Europe will drag on the currency but be good for gold prices as investors pile into the precious metal as a form of money that retains its value. "Gold's a little bit in no man's land," Pratik Sharma, managing director at Atyant Capital. "Gold could probably use a little bit of a breather. A little bit of time to consolidate some of its gains before it makes its next move ... Gold should correct
from here." Sharma still sees gold 5% to 10% higher by the end of the year buoyed by strong investment demand.
The popular gold exchange-traded fund,
SPDR Gold Shares
(
GLD
), currently holds a record of 1,306 tons as investor demand surged this year. Reportedly if an investor owns a share of the GLD they own one-tenth an ounce of gold and as demand outstrips supply the fund must buy more gold to issue more shares. Shares were currently losing 0.62% to $120.24. The GLD's competitor,
ETFS Physical Swiss Gold Shares
(
SGOL
), reported that it exceeded $500 million in assets under management as investors piled into the gold ETF. Shares were down 0.56% to $122.60.
Silver prices
settled down 13 cents to $18.44 while copper closed flat at $2.99.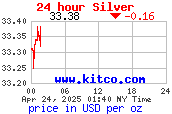 Gold mining stocks, a more risky but more profitable way to
invest in gold
, were mixed.
Gold Fields
(
GFI
) was slightly higher at $13.82 while
New Gold
(
NGD
) was falling 0.47% to $6.39. --
Written by Alix Steel in New York
.
Readers Also Like: