The advent of gold ETFs, which are physically backed, has given investors an easier, safer and faster way of buying gold. The most popular,
SPDR Gold Shares
(
GLD
), currently has 1,286.35 tons in its holdings, which is slightly less than its record of 1,289 tons. If investor demand outpaces available shares, more gold must be added to issue new stock. Shares were lower by 0.47% to $120.90. Another popular theory for strong gold price movement is central bank buying. Since the second quarter of 2009, central banks from emerging market countries like India and China have been reallocating their reserves with a strong push into gold. India and China hold 6% and 1.5% respectively as compared to the U.S. which holds 74% of its reserves in gold. Recently Iran joined this trend announcing it would sell €45 billion for U.S. dollars and gold. Central banks typically never announce when they are buying gold for fear of moving the price higher but when they buy they typically purchase in large quantities and could be a possible factor in big price swings. Double-digit price gains work both ways, however, some analysts believe that when the crisis premium, or fear trade, comes out of the gold market, prices could plummet to $800 an ounce. "As the global macroeconomic environment stabilizes we continue to expect a significant decline in gold prices," says Michael Crook, vice president and strategist at Barclays Wealth. "
We
initiated a recommendation that clients consider adding a short gold position into their portfolios." Gold prices broke through their previous high of $1,229 an ounce in early May but only sustained that level for a week, which has many investors wondering how long this momentum can last. Gold prices Tuesday have already backed away from its $1,254 high as
U.S. stocks were mixed
. Big upward price movements in gold can also trigger profit-taking as investors sell assets that have yielded the largest returns.
Silver prices
closed up 31 cents to $18.47 while copper settled slightly higher at $2.77.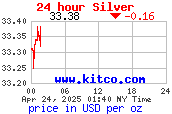 Copper prices have fallen 11% in the past week as investors worry that slowing global growth will curb demand for the industrial metal. Although Fed Chairman Ben Bernanke tried to reassure investors that the
U.S. recovery was on track
, China's recent attempts to pop its real estate bubble and eurozone nations' fervor to slash their budget deficits and reign in spending could weigh on prices. Shares of
Freeport McMoRan Copper & Gold
(
FCX
) have reflected these concerns with the stock down more than 26% year-to-date. Shares were currently adding more than 2% at $60.25.