NEW YORK (TheStreet) -- New York spot gold prices made some gains Tuesday afternoon as money went into safe-haven buying amid renewed fears of a euro debt spillover effect after Spain bailed out a regional bank over the weekend.
Asian markets have also been tight as a result of escalating tension between North Korea and South Korea over the fatal sinking of a South Korean warship in March. Spot gold prices were rising by $3.80, or 0.3%, to $1196.10 an ounce Tuesday afternoon.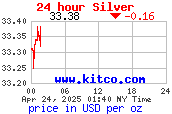 New York spot silver prices were falling 12 cents, or 0.7%, to $17.77 an ounce.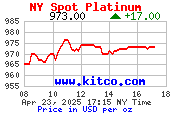 New York spot platinum prices, meanwhile, were declining $36, or 2.4%, to $1,491 an ounce, while its sister metal was also losing traction.

New York spot palladium prices were giving up $14, or 3.2%, to $431 an ounce.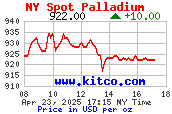 Mining stocks and metals ETFs were heading lower Tuesday afternoon. Mining stocks offer another form of exposure to precious metals.
North American Palladium
(
PAL
) was tumbling 5.2% to $3.10, while
ETFS Physical Palladium Shares
(
PALL
-
Get Report
) was surrendering 3.8% to $43.16.
Silvercorp Metals
(
SVM
-
Get Report
) was falling 3.5% to $6.85 and
Silver Wheaton
(
SLW
) was losing 3.2% to $17.54.
-- Reported by Andrea Tse in New York
RELATED STORIES: