NEW YORK (TheStreet) -- New York spot gold prices were firming up Monday afternoon, as Spain's rescue of a regional lender fanned the flames of worry about Europe's economy.
"Spain's weekend seizure and bailout of domestic lender Caja Sur helped dent the emerging recovery in the euro and gave the U.S. dollar and gold, with it, a further boost," Kitco analyst Jon Nadler noted. Spot gold prices were rising by $18.80, or 1.6%, to $1,195.80 an ounce Monday afternoon.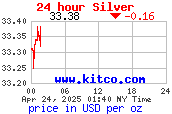 New York spot silver prices were adding 39 cents, or 2.2%, to $18.03 an ounce.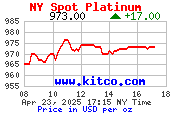 New York spot platinum prices, meanwhile, were advancing $26, or 1.7%, to $1,531 an ounce, while its sister metal was also gaining traction.

New York spot palladium prices were rising $14, or 3.2%, to $448 an ounce.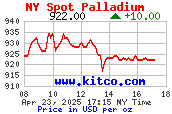 Mining stocks and metals ETFs were heading higher Monday afternoon. Mining stocks offer another form of exposure to precious metals.
North American Palladium
(
PAL
) was rising 3.8% to $3.27, while
ETFS Physical Palladium Shares
(
PALL
-
Get Report
) was adding 4.3% to $45.19.
Silvercorp Metals
(
SVM
-
Get Report
) was adding 7.5% to $7.16 and
Silver Wheaton
(
SLW
) was gaining 3% to $18.35.
RELATED STORIES: