NEW YORK (
TheStreet
) --
Gold prices
sank Wednesday to below $1,200 as investors sold gold for cash to cover losses as Germany's ban on naked short-selling spooked markets. Gold for June delivery was down $22.70 to $1,191.90 an ounce at the Comex division of the New York Mercantile Exchange. The gold price Wednesday has traded as high as $1,228.20 and as low as $1,186.60. The
U.S. dollar index
was slipping 0.84% to $86.65 as the euro rallied slightly rising 1.01% to $1.23 against the dollar, which some experts consider fair value for the currency. The gold spot price Wednesday was sinking over $33, according to Kitco's gold index. Gold prices popped in early trading to almost $1,230 an ounce as euro instability triggered safe-haven buying. But investor profit-taking and the need for cash trumped fear and traders sold gold and raised money to cover losses in equities. Germany's sudden
ban on naked short-selling was weighing on the euro
, which sunk to a low of $1.21 in Asia. Traders worried that the midnight ban signaled impending disaster and without the ability to short European bonds and stocks, investors were left few choices but to bet against the euro. The European Commission reportedly wants all
European Union nations to follow Germany
and restrict naked short-selling of certain assets. Any unilateral move would spell panic and could put continued pressure on the euro and support higher gold prices over the long term as investors buy gold as paper money loses value. The U.S. dollar is currently seen as one of the safest fiat currencies. The yield on U.S. 10-year bonds fell to 3.38%, which means that investors are more willing to lend the U.S. money. Analysts expect the bargain-hunting and profit-taking battle to continue to tug on gold prices. Dips in gold prices provide an opportunity for investors looking to buy gold at a "discount" from recent highs.
Blackstone's
Byron Wien is quoted as predicting that gold will hit $1,500 an ounce as the precious metal retains its appeal as a safe-haven asset. "After we get through this phase of liquidation ... the world's just got more uncertain overnight ... so that should be positive for gold," says Will Rhind, head of U.S. operations for ETF Securities. "The backdrop for gold is really as strong as it has been for a long time ... so gold in a technical trend is certainly breaking out against major currencies and indeed could go higher from here." Another factor weighing on gold was the lack of inflation in the U.S. The Consumer Price Index slipped 0.1% in April versus rising 0.1% as it did in March. Gold is seen as a hedge against weaker currency and the lack of inflation could also be pressuring the gold price.
Silver prices
were down 79 cents to $18.08 and copper was losing 8 cents to $2.94.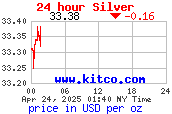 Gold mining stocks, a more risky but more profitable way to
invest in gold
, were mixed.
Barrick Gold
(
ABX
) was trading lower by 4.83% to $42.33 while
Newmont Mining
(
NEM
-
Get Report
) was down 3.50% at $54.12.
Gold Fields
(
GFI
) was losing 3.00% at $12.86 after the company said its gold output would increase by 4% in 2010. Other large-cap miners
Kinross Gold
(
KGC
-
Get Report
) and
Goldcorp
(
GG
) were trading at $17.12 and $41.95, respectively. Shares of
Freeport McMoRan Copper & Gold
(
FCX
-
Get Report
) were trading slightly lower at $66.15 while the company still digested the possibility that China's economy could slow. China has bought huge amounts of copper as the government increased industrial and construction spending. Any steps to curb this growth could severely impact copper demand in the long term. Shares of the popular gold ETF,
SPDR Gold Shares
(
GLD
-
Get Report
), were down over 2% to $116.61 as tonnage remained at 1,217.
-- Written by Alix Steel in New York.