NEW YORK (
TheStreet
) -- Profit- taking was weighing on
gold prices
Thursday a day after the
gold price touched a new high
of $1,249 an ounce. Gold for June delivery was slipping $11.70 to $1,231.40 an ounce at the Comex division of the New York Mercantile Exchange. The gold price Thursday has traded as high as $1,243.70 and as low as $1,231.20. The
U.S. dollar index
was adding 0.33% to $85.12 while
the euro sank
0.29% to $1.25 against the dollar. The spot gold price Thursday was falling over $5, according to Kitco's gold index. The spot price had been rising earlier in the day as investors opted to buy the physical metal and take profits in gold futures contracts. Gold prices are expected to remain volatile over the short term. European debt worries are still strong despite the $1 trillion financial aid package. Although the European Union is intent on preserving the euro, investors remain dubious about its success and are buying gold as a hedge against the weakening currency. On the flip side, investors are taking profits on record high gold prices. Gold prices have risen almost 3% this week, and for the time being, panic buying seems to have subsided. Spain and Portugal's 10-year bond yields have fallen to 3.96% and 4.68%, respectively, which means investors are more willing to lend the countries money. Spain and Portugal have committed to new austerity measures, including tax hikes and budget cuts to curtail their deficits. "The euro still has problems ... as the spec funds keep testing the resolve of European finance ministers," says Jon Nadler, senior analyst at Kitco.com. "While this uncertainty in this past week sustains
gold at these high levels, obviously gold is maintaining in this channel between about $1,225, the previous high, and about $1,245 at the moment." Although profit-taking selloffs are expected to continue, overall sentiment remains bullish. According to Bloomberg, Abu Dhabi's Emirates Palace hotel unveiled a vending machine that hands out gold bars. Germany has a similar mechanism. A user can obtain gold coins and up to a 10-gram bar of gold, which is around $433. Price forecasts range anywhere from $15,000 to $800 an ounce making it difficult for investors to know how to buy record-high gold. Fifteen-thousand dollar gold bulls like author Mike Maloney say that gold will eventually cover all the money in circulation including credit, while Michael Crook, analyst at Barclays Wealth, stands by his $800 target, which he thinks could be hit once the fear factor comes out of the market. Nadler says he has seen "concerned investors who are fearful of having missed the boat on gold, but I also hear from an equal number who are saying how do I short this thing."
Silver prices
were slipping 19 cents to $19.46 while copper was up 5 cents at $3.23.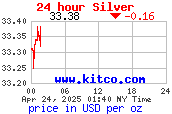 Gold mining stocks, a more risky but more profitable way to
invest in gold
were slipping.
Barrick Gold
(
ABX
) was down 1.31% to $45.07 while
Newmont Mining
(
NEM
) was down over 1% to $57.82. Other large miners
Kinross Gold
(
KGC
) and
Goldcorp
(
GG
) were trading at $18.89 and $45.75, respectively. Shares of
Freeport McMoRan Copper & Gold
(
FCX
) were relatively flat at $72.66 while
Yamana Gold
(
AUY
) was down 0.70% to $11.42. Shares of the gold ETF,
SPDR Gold Shares
(
GLD
) were lower by 0.61% to $120.66. The ETF added over 17 tons of gold on Wednesday to reach another record of 1,209 tons as investors fled into gold.
-- Written by Alix Steel in New York.