NEW YORK (
TheStreet
) --
Gold prices
Tuesday made a new all-time high as investors bought gold as a safety net against worries that Europe's financial aid plan wouldn't be enough to save the euro. Gold for June was popping $32.70 to $1,233.50 an ounce at the Comex division of the New York Mercantile Exchange. The gold price Tuesday has traded as high as $1,235.20 and as low as $1,201.50. The
U.S. dollar index
was also rising 0.42% to $84.51 while the euro resumed its down trend falling 0.73% to $1.26 against the dollar. The spot gold price today was up $29, according to Kitco's gold index. Gold prices topped their previous high in U.S. dollar terms of $1,227 an ounce as investor remain wary of the
bailout plan for eurozone countries
. The joint European Union and IMF initiative as well as the European Central Bank's effort to lend money to "dysfunctional" markets by buying public and private debt have many analysts wondering if this will really be enough to avert disaster. Many analysts also speculate that the European Central Bank will eventually be forced to monetize eurozone countries' debt, in essence print money to save the euro. Either scenario is positive for gold prices.
Investors continued to buy gold
as a form of money that retains its value as the euro continues to lose value. Despite a stronger U.S. dollar, the euro crisis has spooked many investors who want to balance their portfolio with gold. "Our new trading range may have to be expanded after this week to $1,150 support and $1,250
as possible new resistance," says George Gero, vice president of global futures at RBC Capital Markets in his daily metal commentary. "But for now $1,225 may still be a temporary resistance area." Two variables could weigh on gold prices: profit-taking and China. With prices breaking $1,227 an ounce investors might sell some gold, and likewise if the euro and markets take another nose dive, investors could sell their gold to raise cash. According to reports, China's April consumer prices, an inflation indicator, rose 2.8% from a year earlier. China has been taking steps to curb its lending by raising the amount of money banks need to have in their reserves, which in essence takes money out of circulation.
China's inflation reading might prompt the government to take more drastic measures to clamp down on lending to slow its economy. Many analysts worry that any efforts to curb growth would be a negative for all metals from gold to copper. Not only would China's burgeoning middle class have less disposable income to buy gold, but China might stop its massive construction efforts, which would reduce demand for silver and copper. On the flip side, inflation fears can support higher gold prices as investor typically buy gold on inflation expectation.
Silver prices
were up 81 cents to $19.37 as gold's rally supported higher prices while copper was down 5 cents to $3.17.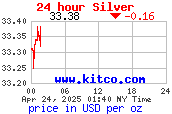 Gold mining stocks, a more risky but more leveraged way to
invest in gold
, were popping.
Barrick Gold
(
ABX
) was trading over 4% higher at $45.88 while
Newmont Mining
(
NEM
) was up 4.88% to $58.20. Other large-cap miners
Kinross Gold
(
KGC
) and
Goldcorp
(
GG
) were trading at $18.71 and $46.20, respectively. Shares of
Freeport McMoRan Copper & Gold
(
FCX
) were trading over 3% lower at $70.24, while
Yamana Gold
(
AUY
) was up over 6% to $11.39. The popular gold ETF,
SPDR Gold Shares
(
GLD
) hit a new 52-week high and is currently rising 2.60% to $120.63. The ETF added another 3.66 tons on Monday as investors continued to buy gold.
-- Written by Alix Steel in New York.