NEW YORK (TheStreet) --
Gold prices
Wednesday were volatile as bargain hunters bought gold at discount prices after an earlier sell-off. Gold for June delivery was adding $5.60 to $1,174.80 an ounce at the Comex division of the New York Mercantile Exchange. The gold price Wednesday has traded as high as $1,177 and as low as $1,156.20. The
U.S. dollar index
was giving up some of its gains and rising only 0.62% to $83.82 while the euro continued its slump falling 0.83% against the dollar. The spot gold price was up over $2, according to Kitco's gold index.
The euro plummeted past its one-year low of $1.30
as European sovereign debt fears plagued the market. Despite the IMF/European Union's joint 110 billion euro bailout for Greece, investors panicked as the debt crisis threatened to spread to Spain and Portugal and three were found dead after a series of protests in Greece. Markets nosedived Tuesday with the
Dow Jones Industrial Average
falling over 200 points as investors sold their gold to raise cash. Gold prices had been slipping earlier Wednesday but bargain-hunters came out in full force and bought the precious metal after
gold's selloff
. Gold is an appealing investment during times of financial crisis and currency debasement as a form of money that doesn't lose value. Analysts expect gold's tug of war to continue tempering gold's run to $1,200 an ounce. Prices will be torn between investors' need for cash and bargain hunting, profit-taking and good buying opportunities. "A slight recovery ensued in the first half-hour of trading and observers were on the lookout for possible bargain-hunters to make an appearance," says Jon Nadler, senior analyst at Kitco.com in his daily metals report. But a stronger U.S. dollar hurt gold's appeal as the metal became more expensive to buy in other currencies. "Gold
is ... fighting for its credibility as a safe-haven asset," argues Nadler, "and was seen as once again being grouped with risk assets and sold in favor of the U.S. dollar," which is perceived to be the strongest global currency. Portugal looks to be the next eurozone country on the chopping block with its debt levels reaching 77% of gross domestic product which is still a far cry from Greece's debt, which is 115% of GDP. Moody's announced that it will put Portugal's double A credit rating under review which prompted more speculation that Portugal is the next European country at risk for default. However, Portugal's 10-year bonds are currently yielding 5.7%. At the height of Greece's economic crisis bond yields soared over 10%, so for now investors are still willing to lend money to other struggling eurozone countries.
Silver prices
were down 26 cents to $17.57 while copper prices were losing 1 cent to $3.016. Silver and copper were also suffering from fears of
decreased demand from China
. China raised the amount of money banks need to keep in their reserves by 50 basis points which takes currency out of circulation. With banks lending less, China's construction spending could slow and crimp demand for silver and copper.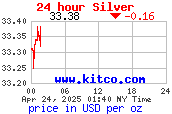 Mining stocks, sometimes a more profitable way to
invest in gold
, were recovering along with broader equities.
Barrick Gold
(
ABX
) was up 0.49% to $43.13 while
Newmont Mining
(
NEM
) was down 0.15% to $54.22. Other large-cap miners
Goldcorp
(
GG
) and
Kinross Gold
(
KGC
) were down to $42.82 and $17.82, respectively.
TD Newcrest
downgraded Kinross to hold from buy after the company said it made 14 cents a share in the first quarter, which was below expectations. Shares of
Freeport McMoRan Copper & Gold
(
FCX
) were rising 1.84% to $71.78 while
Yamana Gold
(
AUY
) was adding 0.28% to $10.60 despite the fact the company increased its divided by 50 percent. The popular gold ETF,
SPDR Gold Trust
(
GLD
) was up 0.16% to $114.97.
-- Written by Alix Steel in New York.