NEW YORK (
TheStreet
) --
Gold prices
Monday were passing $1,180 as the Greece debt crisis reached a resolution and China tightened lending. Gold delivery for June was up $4.80 to $1,185.50 an ounce at the Comex division of the New York Mercantile Exchange. The gold price Monday has traded as high as $1,188.40 and as low as $1,177.10. Volume was thin as London markets were closed for a holiday. The
U.S. dollar index
rising 0.72% to $82.46 while the euro was falling 0.93% against the dollar. The gold spot price was rising over $6, according to Kitco's gold index.
Greece will receive 110 billion euros
from a joint IMF and European Union financial aid package by May 19. In return, Greece will have to enforce even harsher measures such as salary and pension cuts for public-sector employees, a hike in the retirement age, tax raises, and an end to annual two-month bonuses, all of which resulted in riots and protests. The plan still needs to be approved by the European countries' parliaments.
Gold Prices To Reach $1,400
Despite the financial aid package for Greece, many analysts are skeptical over its long term impact on the euro. Adrian Ash, head of research for the
BullionVault.com
speculates that the European Central Bank will need to slash interest rates and print money to pay for Greece's debt. Also, Greece might need to post as collateral its 112 tons of gold it has in its reserves. "You saw something similar with the IMF and India back at the start of the early 90s," says Ash, referencing when the IMF lent money to India with gold as collateral. "It would be interesting to see central banks and governments basically re-mobilizing gold again ... I think it could potentially be very bullish for gold long term." For the short term, the EU/IMF's massive bailout is putting
pressure on the euro
and investors are turning to safer assets like the
U.S. dollar
and gold. Gold is appealing during times of economic uncertainty as a type of money that doesn't deteriorate in value. One variable for gold will be China. The People's Bank of China reportedly raised the requirement banks must hold in their reserves by 50 basis points meaning there will be less money in circulation. A consistent fear is that if China keeps tightening lending then the country and consumers will stop spending especially on luxury good items like gold. Gold prices popped 2.3% last week and many analysts are confident that gold will break $1,200 to test its all-time high of $1,227 an ounce but are skeptical as to how long prices will stay there. "I do think there will be some resistance as we attempt to eclipse the December highs," says Scott Redler, chief strategic officer of T3Live.com. "
But I do think we take out those highs and we see $1,300 to $1,400 an ounce at some point this year" Silver prices were rising with gold prices up 8 cents to $18.72 while copper prices were down 7 cents to $3.27.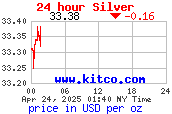 Gold-mining stocks, a more risky but more profitable way to
invest in gold
, were mixed.
Barrick Gold
(
ABX
) was slipping 1.75% to $42.80 while
Newmont Mining
(
NEM
-
Get Report
) was down over 2% to $54.95. Other large-cap miners
Kinross Gold
(
KGC
-
Get Report
) and
Goldcorp
(
GG
) were trading lower at $17.76 and $42.70, respectively. Shares of
Yamana Gold
(
AUY
-
Get Report
) were slightly lower at $10.81 and
AngloGold Ashanti
(
AU
) was lower at $41.62. The gold ETF,
SPDR Gold Trust
(
GLD
-
Get Report
) was rising 0.57% to $116.02. The ETF is currently holding a record of 1,159 tons of gold.
-- Written by Alix Steel in New York.