NEW YORK (TheStreet)--Spot gold prices were somewhat anemic Wednesday afternoon, as it and other precious metals experienced some Greece- and Portugal-inspired downward pressure, and awaited a decision on key interest rates by the Fed.
Euro-zone debt fears have only deepened after the respective countries received credit-rating lashing from Standard & Poor's. Spain has also received a slap on the wrist by S&P regarding its credit standing. Spot gold prices inched up a bit by about $1.20, or about 0.1%, to $1,169.60 an ounce Wednesday afternoon. "A small word of caution: Greece and Portugal alone hold nearly 500 tonnes of gold in their reserves, while Italy sits on 2,451 tonnes of the same," Kitco analyst Jon Nadler noted. "Factor in Spain with 523 tonnes and the picture is complete and clear. What is not clear is at what point any one of these countries might have to reach for the 'asset of last resort' and 'mobilize' some of it for the very purposes it was placed into those basements to begin with; to serve as an umbrella for a rainy day."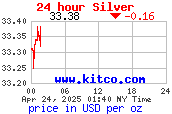 New York spot silver prices were down 11 cents, or 0.6% at $18.05.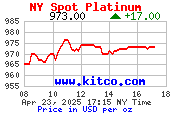 New York spot platinum prices, meanwhile were falling $10, or 0.6% to $1,707 an ounce, while its sister metal was losing traction.

New York spot palladium prices were losing $10, or 1.8%, at $537 an ounce.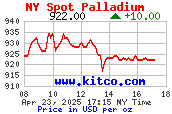 A handful of mining stocks have been trading in positive territory Wednesday afternoon. Mining stocks offer another form of exposure to precious metals.
Barrick Gold
(
ABX
) stock has risen 4.2% to $42.37,
Goldcorp
(
GG
) has added 4.3% at $42.77 and
Newmont Mining
(
NEM
-
Get Report
) has gained 3.5% to $55.10. Meanwhile,
Kinross Gold
(
KGC
-
Get Report
) is up 2.9% at $18.90.
-- Reported by Andrea Tse in New York
RELATED STORIES:
Twitter
and become a fan on
Facebook.