NEW YORK (TheStreet) -- New York spot gold prices softened Monday as the euro lost ground on renewed Greek debt worries.
Spot gold prices were inching down $3.80, or about 0.3%, to $1,153.70 an ounce Monday afternoon. "'Not so fast,' said certain German officials over the weekend, as Greece awaited what was thought to be a sure thing; its rescue package full of euro bills," Kitco analyst Jon Nadler noted in a Monday report. "In fact, Berlin appears to actually be opposed to sending such a package (containing almost 8.5 billion from Germany) over to Athens without the presentation of a 'credible debt-reduction program.'" Nadler said that the euro lost ground again on "such foot-dragging" and ongoing uncertainty in Europe regarding a debt rescue package for Greece, while the dollar showed more strength.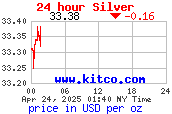 New York spot silver prices, were up 2 cents, or 0.1% at $18.30.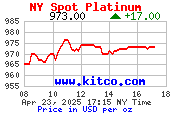 New York spot platinum prices meanwhile edged up $2, or 0.1% to $1,743 an ounce, while its sister metal gained a bit of traction.

New York spot palladium prices were inching up $1, or 0.2%, at $562 an ounce.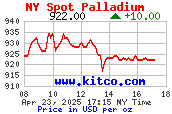 A handful of mining stocks -- which offer another form of exposure to precious metals -- were trading in positive territory Monday afternoon.
Stillwater Mining
(
SWC
) stock was rising 3.4% to $18.22,
Freeport-McMoRan Copper & Gold
(
FCX
-
Get Report
) was up 1.6% at $80.81 and
Silvercorp Metals
(
SVM
-
Get Report
) stock was up 0.9% to $7.70. Meanwhile,
North American Palladium
(
PAL
) shares were slightly higher at $5.02, up 0.8%.
-- Reported by Andrea Tse in New York
RELATED STORIES:
Twitter
and become a fan on
Facebook.