NEW YORK (TheStreet) -- Palladium spot prices on the New York Mercantile Exchange touched their two-year peak on Wednesday.
Meanwhile, the gold-to-palladium price ratio reached levels that were seen before Lehman Brothers went out of business in 2008. The ratio has come down from its highest ever level of 5.01 in February 2009 to the current 2.14. The rapid decline in the ratio indicates that prices of palladium have zoomed over the past one year compared to the much-talked-about price appreciation of gold. In April alone, the spot price of palladium on Nymex jumped 12.29% in comparison to 3.72%, 4.73%, and 4.75% increases in prices of gold, silver and platinum, respectively. On Wednesday, palladium surged 3.55%, multiple times higher than the 0.41% gain in gold. On Thursday, palladium and gold closed at $544.75 and $1159.25 per ounce, respectively.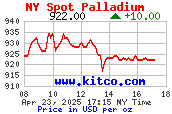 Stocks of palladium producers
have been performing well on the back of an outstanding run-up in the price of the metal. Our recommended palladium stocks,
Stillwater Mining
(
SWC
) and
North American Palladium
(
PAL
), gained 8.15% and 7.47%, respectively on Wednesday, reaching their 52-week highs. During Thursday's trading, Stillwater and North American Palladium stocks added another 3.34% and 6.54%, respectively, while the overall gains in April alone stand at 26.81% and 19.85%, respectively. The launch of a new exchange-traded fund for palladium on Jan. 8, 2010, made it easier for investors to play the metal. Since inception,
ETFS Physical Palladium Shares ETF
TICKER TYPE=''EQUITY" SYMBOL="PALL" EXCHANGE="NYSE" PRIMARY="NO"/> has gained 26.8%. Over the same period, the largest silver-backed fund
iShares Silver Trust
TICKER TYPE=''EQUITY" SYMBOL="SLV" EXCHANGE="NYSE" PRIMARY="NO"/> saw a decline of 0.04%, while
SPDR Gold Trust ETF
TICKER TYPE=''EQUITY" SYMBOL="GLD" EXCHANGE="NYSE" PRIMARY="NO"/> gained only 1.49%. Automakers are increasingly choosing palladium over platinum for use in catalytic converters in order to curb automobile pollution. Passenger car sales in China surged 55% in February from a year earlier, while motor vehicle sales in U.S. rose 24.3% in March from a year earlier. As reported Friday, auto sales in European Union rose 10.8% in March from a year earlier. Revival of automobile production, which accounts for half of the world's palladium demand, around the world will likely support high palladium prices.