NEW YORK ( TheStreet) -- New York spot gold prices firmed up Wednesday after the release of an ADP National Employment Report that said private sector employment decreased by 23,000 from February to March.
Meanwhile, gold fabrication demand is still experiencing weakness, according to Kitco analyst Jon Nadler. Nadler cited a
Zaman
report that said, "according to recent figures announced by TURKSTAT, the Turkish statistical authority, Turkey's year-on-year exports went down by 1.3% to $8.43 billion in February 2010.
The
major cause for the fall was the decline in raw and semi-processed gold exports to $161 million in February 2010 from $1.6 billion in February 2009," Turkish State Minister for foreign trade Zafer Caglayan said." Spot gold prices have risen $11.50, or about 1%, to $1,114.80 an ounce.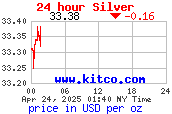 New York spot silver prices are up 24 cents, or 1.4%, to $17.52 an ounce in the intraday.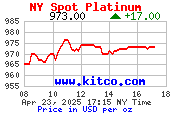 New York spot platinum prices have risen $23, or 1.4%, to $1,640 an ounce, while its sister metal has gained ground.