NEW YORK (TheStreet) -- New York spot gold prices softened Tuesday as the dollar firmed ahead of the holiday weekend.
"Pre-holiday trading patterns became manifest as trading thinned out somewhat, and traders were more inclined to tally their first-quarter activity results than to engage in taking large fresh positions in either direction," Kitco analyst Jon Nadler wrote. The New York Stock Exchange will be closed April 2 in observance of Good Friday. Spot gold prices have fallen $4.80, or about 0.4%, to $1,104.20 an ounce.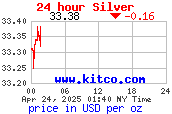 New York spot silver prices are down 3 cents, or 0.2%, to $17.32 an ounce in the intraday.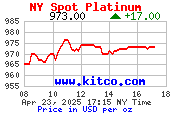 New York spot platinum prices are down by $10, or 0.6%, to $1,617 an ounce, while its sister metal has lost ground.

New York spot palladium prices have fallen $1, or 0.2%, in the afternoon at $469 an ounce.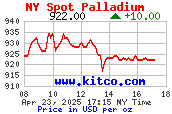 A handful of mining stocks have declined during the trading session. Mining stocks offer another form of exposure to precious metals.
Goldcorp
(
GG
) has lost 1.7% to $36.90, while
Stillwater Mining Company
(
SWC
) is down 1.4% at $13.
North American Palladium
(
PAL
) has fallen 0.5% to $4.
ETFS Physical Palladium
(
PALL
-
Get Report
) is down 0.9% to $47.
-- Reported by Andrea Tse in New York
RELATED STORIES:
Twitter
and become a fan on
Facebook.