NEW YORK ( TheStreet) -- New York spot gold prices were pulled in a slightly more positive direction Monday early afternoon as personal spending increases amid sluggish incomes in February were accompanied by ongoing concerns about Greece and Portugal's ability to put a leash on their debt issues.
"Last Friday's S. Korean ship incident was not cited as a supportive factor this morning, as officials appeared to back away from automatically pointing fingers at N. Korea as the responsible party to the tragedy," Kitco analyst Jon Nadler writes. Spot gold prices have risen $2.30, or about 0.2%, to $1,109 an ounce.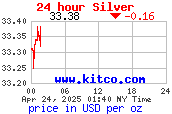 New York spot silver prices are up 49 cents, or 2.9%, to $17.36 an ounce in the intraday.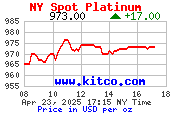 New York spot platinum prices have popped by $32, or 2.0%, to $1,627 an ounce, while its sister metal has gained ground.