(Spot gold story updated to reflect recent stock price movements and additional analyst insight.)
NEW YORK (TheStreet) -- New York spot gold prices have risen early afternoon, driven by a combination of partially Greece-driven debt worries in the European Union, earthquake news out of Chile, and reports that North Korea may have hit and sunk a South Korean naval ship with a torpedo Friday.
The ship sank early Saturday morning near a disputed border with North Korea. According to a South Korean naval commodore, 58 of the ship's 104 crew members had been rescued by early Saturday morning; rescue operations are ongoing. It has also been reported that a South Korean naval ship had earlier fired at an unidentified vessel nearby. South Korean cabinet members have promptly convened an emergency meeting. Spot gold prices have risen $13.60, or about 1.3%, to $1,104.60 an ounce. "Geopolitical tensions flared up when news of a sinking South Korean ship hit the wire service. Gold, a traditional barometer of international tension levels, took to higher ground in the wake of the news," Kitco analyst Jon Nadler explained in an email to
TheStreet.
"Gains were limited however, as neither the euro nor the dollar moved much beyond their morning levels on the news. In addition, news that
a 6.2 magnitude quake (or aftershock) had struck in North Chile, lent further support to the metals complex."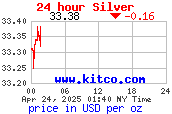 New York spot silver prices are up 30 cents, or 1.8%, to $16.88 an ounce in the intraday.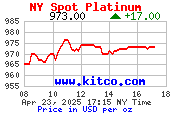 New York spot platinum prices have tumbled by $5, or 0.3%, to $1,593 an ounce, while its sister metal has gained ground.

New York spot palladium prices are up $3 or 0.7% in the afternoon at $454 an ounce.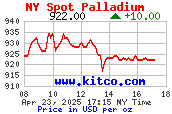 A handful of mining stocks have advanced. Mining stocks offer another form of exposure to precious metals.
Pan American Silver
(
PAAS
) has risen 2.3% to $22.40, while
Silvercorp Metals
(
SVM
) is up 3% at $6.70.
Hecla Mining
(
HL
) has risen 1.9% to $5.30, while
ETFS Physical Palladium
(
PALL
) is up 0.8% to $45.60.
-- Reported by Andrea Tse in New York
RELATED STORIES:
Twitter
and become a fan on
Facebook.