NEW YORK (
TheStreet
) --EUR/USD hit new lows yesterday around 1.3265, where an impulsive decline from 1.3568, wave 2) top, could complete. We are talking about a short wave 3) that was reversed recently by a corrective red wave 4).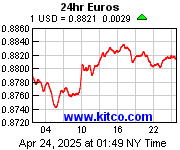 If this is the case, then a EUR/USD short trend could reach new lows once a corrective, red wave 4) completes around the 1.3400 region. Bears remain in play as long as the pair trades below the 1.3502 zone. TheLFB Charting:
EUR/USD 4-Hour View
Follow Elliott Wave charts and updates on twitter. If you would like to be a part of TheLFB.com, to receive a full Elliott wave detail for Eur/Usd (monthly, weekly, daily and four-hour charts) and if you want to know what comes next and what to expect from the market, then join us now.