NEW YORK ( TheStreet) -- New York spot gold prices have gained ground late afternoon with European Union leaders convening at a Europe Union summit, and troubleshooting Greece's debt troubles at the top of their priority list.
"Following their (sovereign debt jitters-induced) worst drop in seven weeks, gold prices managed to stabilize in the overnight period," Kitco analyst Jon Nadler writes. "Bullion climbed back towards the $1,095 value zone after the euro regained a bit of lost ground ahead of the start of an EU summit later today." Spot gold prices have risen $3.80, or 0.4%, to $1,091.30 an ounce.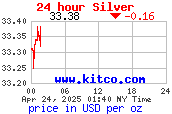 New York spot silver prices are up 6 cents, or 0.4%, to $16.62 an ounce in the intraday.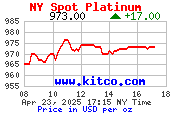 New York spot platinum prices have popped by $24, or 1.5%, to $1,602 an ounce, while its sister metal has also gained ground.