NEW YORK ( TheStreet) -- New York spot gold prices have lost ground mid-afternoon as the dollar rises amid more Europe uncertainties, including Greece debt worries and Fitch Ratings' lowering of Portugal's credit rating by a notch.
"Once again, a sharply falling euro dragged bullion prices down under $1,100.00, while the U.S. dollar surged by a massive 0.85 on the trade-weighted index, reflecting the safe-haven bids that investors are placing upon it as the crisis in the Old World shows no signs of letting up," Kitco analyst Jon Nadler writes. Spot gold prices have fallen $15.10, or 1.4%, to $1,087.70 an ounce.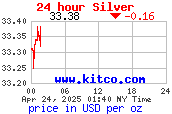 New York spot silver prices are down 39 cents, or 2.3%, to $16.60 an ounce in the intraday.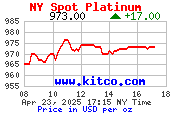 New York spot platinum prices have fallen by $27, or 1.7%, to $1,581 an ounce, while its sister metal has also lost ground.