NEW YORK ( TheStreet) -- New York spot gold prices have lost ground mid-afternoon, as the dollar gains strength against major currencies, supported by chatter about global interest rate hikes, among other factors.
"The combination of apprehensions -- one set related to Greece and its woes, the other concerning the surprise interest rate hike by India -- that have now come to dominate the mindset of a hitherto eager-to-take-on-risk (and risk assets) crowd is at the root of these recent sell-offs," Kitco analyst Jon Nadler writes. Spot gold prices have fallen $10.10, or 0.9%, to $1,097.80 an ounce.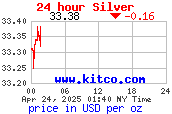 New York spot silver prices have lost 9 cents, or 0.5%, to $16.87 an ounce in the intraday.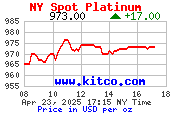 New York spot platinum prices have fallen by $8, or 0.5%, to $1,597 an ounce, while its sister metal has also lost ground.