(Prices of spot gold and other precious metals updated.)
NEW YORK ( TheStreet) -- New York spot gold prices have softened amid a sturdier U.S. dollar and feebler Euro currency Friday as uncertainty over debt-laden Greece's ability to attain financial aid from the European Union permeates the market.
"People are pretty concerned about the confusion in the EU in regards to financial assistance to Greece,"
Barclays
(
BCS
) currency strategist Adarsh Sinha tells
Bloomberg
. "It's a political nightmare, and that's contributed to the risk premium on the euro." Spot gold prices have fallen $18.20, or 1.6%, to $1,107.70 an ounce.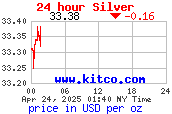 New York spot silver prices have lost 38 cents, or 2.2%, to reach $17.01 an ounce in the intraday.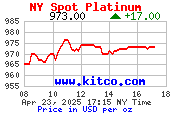 New York spot platinum prices have fallen by $19.00, or 1.2%, to hit $1,609.00 an ounce, while its sister metal has also lost ground.