NEW YORK ( TheStreet) -- New York spot gold price have lost some momentum following a climb ahead of expectations that the Fed would not be changing interest rates much.
On Tuesday the Fed decided to leave the federal funds rate at pretty much zero, or a target range of 0 to 1/4%, which provided some support for bullish sentiment in the gold market. The Fed keeps its key lending rate low with thoughts that inflation should stay subdued for some time. Spot gold prices have fallen $1.80, or 0.2%, to $1,124.10 an ounce. Meanwhile, "safe-haven bids for the greenback have taken a few more hits following the announcement by Standard & Poor's that it will be removing Greece from its 'credit watch: negative' file," Kitco analyst Jon Nadler said.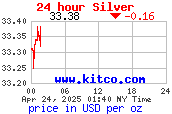 New York spot silver prices have made advances, rising by 9 cents, or 0.5% to $17.53 an ounce in the intraday.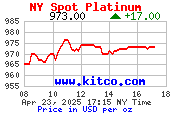 New York spot platinum prices have fallen by $2.00, or 0.1%, to $1,633 an ounce, while its sister metal has been making advances.