NEW YORK (
TheStreet
) -- Gold prices fell on the spot market as concerns about Greece's debt crisis eased and pared demand for the metal as a safe haven investment. Spot gold prices fell $10.40, or 0.9%, to $1124 an ounce.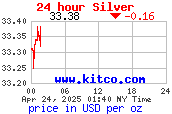 Spot silver prices also dovetailed, down 14 cents or 0.8% to $17.20 an ounce.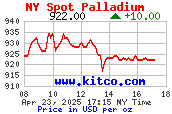 Spot palladium prices followed, sinking $6, or 1.3% to $470 an ounce.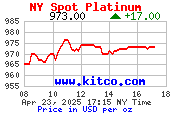 Spot platinum prices firmed up, rising $17, or 1.1% to $1594 an ounce.
Kitco News
cites CPM Group managing director Jeffrey Christian as saying that platinum group metals are still attractive investments due to their duality and the ongoing appetite for automobiles in China and India. Christian also decalred that the platinum group metals are "industrial metals in tight supply," according to
Kitco News.