NEW YORK ( TheStreet ) -- Gold prices were taking a beating Monday as markets digested European sovereign debt fears.
Gold for April delivery was slipping $10.90 to $1,124.30 an ounce at the Comex division of the New York Mercantile Exchange. Gold has traded as high as $1,138 and as low as $1,118.50 Monday. The
U.S. dollar index
was flat at $80.44. Spot gold prices dropped $11.20, according to Kitco.com's dollar-weighed price index. Gold was confined to a tight trading range as investors digested mixed data. A better than expected nonfarm payroll report Friday buoyed risk sentiment, increasing appeal for the precious metal. But it also ignited fears that the
Federal Reserve
could raise interest rates sooner than anticipated. The euro and dollar continue to take their cues from
Greece
. French President Nicolas Sarkozy pledged support to Greece after the country introduced some new austerity measures, but again no specific details have been released. Greece's Prime Minister Papandreou will meet with President Obama on Tuesday. Portugal might be the next country in the hot seat.
Moody's
might downgrade the country's sovereign rating, but according to reports, Portugal is planning to slash its deficit to 2.8% by 2013 from a current 8.3%. Many analysts expect the European debt crisis to support gold prices over the long term. "The problems for the euro led some investors to seek safety in gold and that trend is continuing," says Jeffrey Nichols, senior economic adviser to Rosland Capital. "In the short term, I see gold struggling higher ... though I do think by midyear we will have new highs ... it will break through 1227 in the next few months"
Silver prices
were down 13 cents to $17.25, while copper prices were flat at $3.41.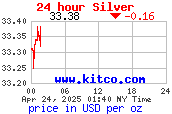 Mining stocks, a more leveraged way to
invest in gold
, were mixed.
Barrick Gold
(
ABX
) was slipping 1.29% to $39.72, reversing earlier gains, while
Newmont Mining
(
NEM
) was trading at $51.12. Other large-cap miners
Kinross Gold
(
KGC
) and
Goldcorp
(
GG
) were trading slightly lower at $18.90 and $40.31, respectively. Kinross received a downgrade from CIBC World Markets to sector underperform from sector perform. Shares of
Freeport McMoRan Copper & Gold
(
FCX
) were flat at $80.86, while
Yamana Gold
(
AUY
) was trading down 3.51% at $10.18 after being downgrade Friday at RBC Capital.
NovaGold
(
NG
) was rising 0.16% to $6.37. The small-cap miner announced a common offering of 13.6 million shares to Quantum Partners, a private investment fund managed by
Soros Fund Management
. NovaGold will price shares at $5.50 to raise $75 million. According to the company's Web site, this is in addition to the $100 million in financing announced last week through an equity offering to funds managed by
Paulson & Co.
, now known as the "
Paulson Offering
." NovaGold is trying to secure more financing for its Donlin Creek and Galore Creek properties, which are set to come on stream in the next six to eight years.
Shares of the physically backed ETF,
SPDR Gold Shares
(
GLD
), were down 0.70% to $110.08. The ETF added 0.61 tons on Friday as investors cautiously bought gold as an alternative investment.
Written by Alix Steel in New York
.