Palladium is set to generate strong investment returns during 2010, driven both by its use as a precious metal and as a replacement for platinum in automobile manufacturing.
Palladium spot prices dropped by almost 3.7% on Jan. 21, from as high of $468.7 per ounce on just the previous day for spot delivery on the Nymex, following the recall of 2.3 million vehicles by
Toyota Motor
(
TM
). The metal remained under pressure as
Honda Motor
(
HMC
) joined the recall parade. Nonetheless, the ongoing recovery in overall auto sales in the U.S. bodes well for the metal. During February,
Ford Motor
(
F
) reported a 43% jump in sales, while General Motors, Honda, and
Hyundai
reported double-digit growth in sales on a year-over-year basis.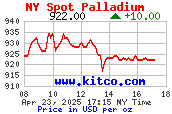 Currently, palladium is trading at $456 per ounce for spot delivery, while platinum trades at $1,576 per ounce for spot delivery on the Nymex. Citing tightening supply and increasing demand, analysts at JPMorgan chase forecast palladium prices at $700 per ounce in the long-term. Derek Engelbrecht, Impala Platinum, estimates a palladium deficit of 800,000 ounces during 2010 itself.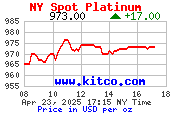 In tandem with the current recovery in the automobile sector, stocks of palladium producers
Stillwater Mining
(
SWC
) and
North American Palladium
(
PAL
) are likely to see good times ahead. The two stocks have already appreciated 268% and 264%, respectively, compared with their 52-week lows on March 12, 2009, in tandem with a 112% run-up in the price of the commodity. While palladium production is dominated by South African and Russian companies, Stillwater Mining is the only U.S. producer of this precious metal. Having similar physical and chemical properties, palladium and platinum often occur together in the same mineral deposits. Stillwater Mining's palladium production is three times that of platinum, whereas its South African peers produce twice as much of platinum as palladium. In addition to the increase in prices, the company stands to benefit from the use of palladium in auto catalysts, which is likely to increase further as manufacturers substitute platinum.