NEW YORK (
TheStreet
) -- Mike Maloney says
gold prices
will hit $15,000 an ounce -- but silver is the better investment. Maloney, author of
Rich Dad's Guide to Investing in Gold and Silver
, says silver prices can hit quadruple digits and will outperform gold over the long term. During the last decade, gold prices soared to a high of $1,227 an ounce while silver moved from $4.57 to a high of $21, with prices now trading in the $16 range.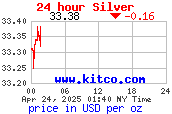 Silver is a thinner market, and prices are subject to more volatile swings. Silver also has different leverage than gold. Not only can it trade as a safe haven asset, but it also has exposure to growth and recovery sectors, like industrials. Maloney said that in times of both inflation and deflation, gold prices will skyrocket as the precious metal will have to cover the amount of base currency and outstanding revolving credit. Silver's story is a little different but more profitable.
Which metal do you want to own, silver or gold
?
Maloney
: I think in inflation silver will perform with gold. In ... deflation you will see silver lag. People are trained
to
think gold in a currency crisis, gold as a safe haven. But there will come a day where gold will get too expensive for the common man
and
at that point just like in 1979,
silver's price will
explode. I believe in either scenario
silver will
blow the doors off of gold on a percentage basis. ... For the first 2,000 years that gold and silver were money, the average exchange rate between the two was that silver's value was about 1/12th of gold's value.