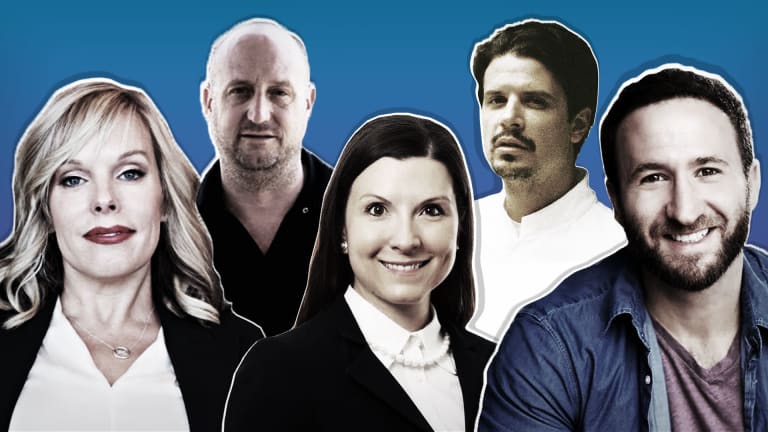 2022's Boldest and Most Original Thinkers: Meet the Innovators Disrupting Their Industries
August 15, 2022: Instead of pulling back in 2022, these innovators are pushing forward to shake up their industry.
This story is a paid advertisement. TheStreet's editorial team and news staff were not involved in the creation of this content. The article was provided by Imperium Group Software.
When economies take a hit and markets are in turmoil, it can be tempting to play it safe in the business space. After all, navigating the unknown and emerging stronger for it is notoriously hard to do (COVID, anyone?).
You will be interested, then, to read about the companies and people who, instead of pulling back in 2022, have been going forward with their ideas for how to shake up their industries. They are proving that with the right mix of wisdom, experience, and guts, the inevitable rollercoaster that everyone rides in business can arrive safely at the end of a crazy time and even keep going smoothly.
Player 2: Dynasty 11 Studios Tackles Toxicity with new Social Platform for Gamers
As gaming grows more popular every day, a dark cloud continues to hang over the industry: toxicity. Now, Dynasty 11 Studios - a Philadelphia-based video game and app development company - aims to address this persistent menace with a new social networking and team-building app for gamers called Player 2. The studio's team of talented, ambitious, and collaborative professionals has endeavored to turn gaming into a more inclusive and accepting space. Whether seeking temporary teammates for a short-term mission or long-term friendships, the award-winning app is a place where gamers can meet like-minded players, discuss their interests, and plan to play their favorite games. The studio maintains an ongoing partnership with Drexel University, even bringing three students onto Player 2's development team. These unique factors position Dynasty 11 to be an industry-disrupting vehicle of innovation, transparency, and creative excellence.
Dice or No Dice? California Prepares to Vote on Sports Betting
While 30 states have legalized betting on professional or college sports teams, California is behind the times - at least for now. Come November, voters will have at least two options: the Tribal Sports Wagering Act, which would allow in-person sports betting at tribal casinos and four race tracks; and the California Solutions to Homelessness and Mental Health Act, which would permit online sports betting. The latter is backed by national gaming companies Draft Kings and Fan Duel, and the initiative would earmark profits for programs to combat homelessness and support mental health services.
For the latest news and information on legal online games in the US and Canada, rely on Oddseeker.
Stay in the know on all things sports and gaming: http://oddsseeker.com/
TRADESAFE Continues to See Consistent Business Growth Through Industry Hardship
RENO, Nevada –TRADESAFE, a company specializing in providing safety equipment for industrial facilities, has seen consistent growth of more than 150% in recent years. The company's success is a relief in an industry that has been hit hard by the drawbacks suffered during the COVID-19 pandemic. Founded in 2019, the American-owned and based brand has enjoyed continuous praise for its commitment to using quality materials, offering attentive customer service, and delivering products with ease. TRADESAFE offers a variety of products to ensure a safe working environment, regardless of the trade or field their customers work in. Products include lockout/tagout (or LOTO) Kits, Eye Wash Stations, Workplace Signs, and Spill Kits and Absorbents that meet all OSHA, EPA, ANSI, and NFPA standards.
The Industry During and After the Pandemic
TRADESAFE has maintained positive metrics as the safety equipment industry suffered a lull due to measures in place during the lockdown. "During the first few months of COVID, a few things happened that affected our business," says Sean Hennessy, owner of TRADESAFE. "At the beginning of Covid, our company was new and our team never missed a day of work, so even though our trajectory slowed dramatically and sales plummeted, we couldn't show a reduction year-over-year in order to get government stimulus. We had to just work harder." Hennessy believes the business has an obligation to its customers and team to push through difficult times. He believes that made them stronger.
What TRADESAFE Provides Industrial Facilities
TRADESAFE's featured products, LOTO kits, are a crucial part of any safe work environment, and implementing its procedures can help prevent accidents, injuries, or property loss. In November 2021, OSHA reported three workers who had severe injuries in two separate incidents occurring due to the failure to implement controls to ensure equipment wasn't unintentionally activated or energized. Just before the end of the month, a worker was trapped in a thermoforming machine when the conveyor activated automatically, leading to the worker's death. "These stories have one overarching lesson: failure to implement lockout/tagout procedures can lead to severe and fatal injuries," Hennessy says. "It's crucial it is for industries to implement lockout tagout procedures strictly."
TRADESAFE offers vast options in the workplace or industrial safety equipment across industries for facilities handling anything from heavy machinery to chemicals or flammable liquids. Its OSHA-compliant products are designed with workplace hazards in mind, such as chemical spills, stored potentially hazardous energy like gas, electricity, and other dangers that require safety signage or emergency eye-washing. Equipment in the factory and industrial settings is held to a rigorous standard to ensure it can handle the extreme conditions and temperatures necessary to facilitate safe use. TRADESAFE uses premium materials, such as its LOTO padlocks, which contain lightweight non-conductive thermoplastic, cores made of solid brass, and stainless steel shackles that are resistant to chemicals and moisture.
TRADESAFE is a supplier of safety products that help protect people, places, and things in most industrial facilities and settings. They supply many of the country's top companies and government agencies with Lockout Tagout products and other industrial safety solutions.
To learn more, visit trdsf.com, or email Herbert Post at hello@trdsf.com
Chantico's Real Mexican Food Wins Top Industry Award
Chantico, which offers vegan and vegetarian Mexican dishes in every section of its menu, has been awarded Emerging Restaurant of the Year (2022) by the Arizona Restaurant Association. Behind the honor are Head Chef Walter Sterling, the founder of Chantico, and the organic Mexican ingredients in the restaurant's authentic dishes.
Sterling trained under top chefs in America before launching Chantico in 2020. Despite opening during the pandemic, Chantico flourished and quickly found a loyal customer base that was attracted to the restaurant's friendly atmosphere and commitment to great Mexican food.
At Chantico, Sterling is assisted by his team of chef de cuisines and sous chefs, who are passionate about cooking high-quality Mexican cuisine and providing exceptional customer service. While Chantico's menu changes often, the restaurant's heart remains the same: casual Mexican food at its best.
2022: Happy Whole Human's Breakout Year
In the first half of 2022, Happy Whole Human, the holistic wellness company founded by Dr. Lisa Leit, has accelerated its mission to help clients to bring data and humanity together to improve individual and organizational health in meaningful, measurable, and lasting ways.
Happy Whole Human is in the Newchip Accelerator and is preparing to pitch for a $2M seed round of funding for its expansion. Building on success empowering employees of clients Whole Foods Market and Aetna CVS Health, Happy Whole Human is prepared to bring a fresh new approach to organizational well-being, including assessment, DIY eCourses, coaching, and guided meditations.
"We are also proud to announce that one of our coach training program graduates, Crystal Adams, just earned her International Coaching Federation ACC credential," says Dr. Lisa. "We could not be happier for her as she starts her own career helping people to become happier and healthier."
AI Expert Raghuvardhan Reddy Suram Predicts Huge Market Growth
The conversational AI market is expected to increase its value significantly over the next several years. This industry includes chatbots and voice bots or Intelligent Virtual Assistants (IVA) - essentially artificial intelligence utilized by businesses primarily to respond to customer inquiries. The chats that pop up on retail websites, or the "phone tree", and Interactive Voice Response (IVR) system, that you encounter when calling a bank, are examples of this industry.
Raghuvardhan Reddy Suram is an expert in the field and he agrees with these projections. He specializes in Artificial Intelligence (AI) and Natural Language Processing (NLP), and his years of experience and education at the Indian Institute of Technology (IIT) and the University of Southern California (USC) qualify him to predict the future of his industry.
Artificial Intelligence Worth Billions
It's anticipated that the conversational AI market will be worth approximately $18.4 billion USD by 2026, according to a study published by MarketsandMarkets. The study focused on chatbots and Intelligent Virtual Assistants and found that the industry's jump to $18.4 billion from 2021's $6.8 billion is due to several factors, one of which being the "new normal" that the world finds itself in post-pandemic.
Some success stories include the Norwegian Labour and Welfare Administration, which switched to automation for over 270,000 inquiries at the onset of the pandemic; they experienced a success rate of more than 80%. Another example is Silvercar by Audi, which incorporated a virtual agent that allowed Audi to assist customers in a swift and efficient fashion. Banks began making the switch as well: Sparebank 1 SR-Bank, a large bank in Norway, partnered with Robotic Process Automation (RPA) and enabled customers to automate home loan forbearance, eliminating the need for a human agent.
Money Saving Options for Multiple Industries
Juniper Research reports that the banking, retail, and healthcare industries stand to save over USD $11 billion per year with the utilization of chatbots for customer service inquiries. It was found that the money saved was derived from less time spent responding to customer service inquiries. Chatbots enable businesses to reduce response and interaction times both via phone and on various social channels. It is estimated that customers and businesses combined will save approximately 2.5 billion hours by 2023.
Juniper Research found that the retail industry, in particular, stands to benefit from conversational AI, as it's predicted that by 2023, 70% of chatbots will be utilized in the retail sector. In a customer service call center, countless hours are spent annually answering phone calls, chats, and e-mails from customers asking very basic questions that can easily be answered by a chatbot.
90% of Businesses Report Improvement When Using AI
A report from MIT Technology Review found that businesses that employed chatbots responded to a survey indicating high levels of satisfaction. 90% of businesses were pleased with the significant improvement in customer satisfaction, employee satisfaction, call/contact processing, and complaint resolution. Consider that customer who wants their tracking details for an online order that was placed. Instead of waiting on hold to speak to a human agent, they can get their question answered quickly and easily by a chatbot. The company and the customer save time and money.
Raghuvardhan Reddy Suram points to all these research studies and surveys as an indication of what he had previously stated about the chatbot and conversational AI industry: that it stands to gain a significant increase in value not just in dollars saved but in hours saved as well.
Suram has worked with multiple Fortune 500 companies building products in the conversational AI field. He has seen firsthand how conversational AI can improve company-to-customer relations, as he's created products such as [24]7 Conversations, a program designed to mimic the human ability to anticipate customer requests and respond with an effective response. The program uses Artificial Intelligence Virtual Assistant (AIVA®) technology, using behavior analysis to gauge the intention behind a customer's inquiry. When necessary, [24]7 Conversations transfers customer interactions to a human agent with the full history included, so that customers aren't required to repeat themselves.
Suram's context-capturing conversational enablement solution has been helping top businesses to resolve their customers' needs in a swift and cost-efficient way. During the various stages of creating Conversations, Suram worked with the top solution providers in the conversational AI industry. Now [24]7 Conversations has saved the companies using it over one billion dollars and has allowed these companies to automate over half of their customer contacts.
"Conversational AI," says Suram, "is a branch of machine learning that understands the user's query and provides responses to resolve their query. But AI has not reached a state where it can solve the complex questions that require the skill, intuition, and empathy of a human to resolve."
AI Working With Humans - Not Replacing Them
He states that conversational AI does not replace the human experience, as naysayers of the industry claim. In fact, Suram's experience has shown him that most companies prefer a combination of both AI and human agents: the chatbots are at the forefront to filter out easy inquiries, and these bots can then transfer complex inquiries to human agents when needed.
"Most companies now realize that to provide a great customer experience, it's essential to augment conversational AI-based chat or voice bots with human agents," Suram says. "When companies use AI along with humans, they're saving 30-50% of their operating costs."
Suram is currently a Senior Manager in Product Management at Salesforce, a hugely successful company that specializes in cloud-based software and is best known for its widely used customer relationship management (CRM) products. "My experience has shown me that approximately 40% of conversations from customers can be automated," Suram reveals. "As a Product Manager, I'm currently investigating how conversational AI can be utilized to tackle the other 60%. With the industry growing the way it is, AI has a bright future. I'm excited to be at the forefront working on new technologies to continue to improve customer satisfaction across the globe and save companies time and money."
Raghuvardhan Reddy Suram is a Senior Manager in Product Management at Salesforce and has created innovative products for [24]7.ai during his 10+ years of expertise in the conversational AI industry.
FPW Media Continues Trend of Significant Growth Into 2022
SPRINGFIELD, Oregon–FPW Media, an Oregon-based creative studio, is on track to continue its years-long streak of growth after being named one of the fastest-growing brands in 2020. FPW Media serves clients through three mediums–brand, film, and merchandise–to help grow and market their name and image effectively to consumers. The studio has seen significant growth in the years since 2019, and the trends seem like they're on track to continue for 2022.
Cohesive and Streamlined
FPW provides clients and businesses with the tools to bring them to the spotlight and allow them to communicate all the professionalism, dynamism, and initiative of their brand. The original idea for the company was simple: what if several creative studios were combined under one name? Through handling work in several different creative sectors, FPW Media allows brands to enjoy streamlined processes to promote themselves through branding, film and merchandising.
Merchandising Services and Products
One of the most important sectors of FPW Media's operations is its merchandising department. In 2021, FPW brought in-house fully automated screen printing and can produce about 8,000 garments a day. FPW added in-house fleet graphics in 2022, as well as vehicle wraps and other products for commercial clients. Whether a customer needs branded apparel for employees – such as uniforms – or specialty merchandise for giveaway events, FPW's in-house printing and embroidery services guarantees a quality product that exemplifies the essence of a client's brand. FPW has two facilities in Eugene and Portland, equipping them to provide large quantities of merchandise with a quick turnaround. FPW also offers water-based, plastisol, and discharge ink options with direct to garment (DTG) and heat transfer printing services.
Dedicated to Raising the Standard
FPW Media's founder and CEO, Owen Garitty, believes the business's success is less about luck and more about dedication and rising to a challenge. "I have always focused on outworking my competition. I may not be able to control being best at something, but I can control how much effort I put in," Garitty says. "So many of our competitors tell their clients or customers no and, to put it simply, we say yes." FPW was founded in 2013 and has served countless clients by providing assistance through advertising and merchandising
FPW Media was named one of the fastest-growing agencies in 2020, seeing over 300% growth in a period of three years. The company has continued to enjoy constant growth, seeing over 120% growth from 2018-2021. For a company that is entirely self-funded and founder-driven, it's needless to say that this rate of growth is significant. FPW Media thinks that a major key to its success is its ability to serve clients and bring tangibility to their businesses that are both physical and digital. "Our three divisions—brand, films, and merch—allow us to approach the marketing needs of our clients from a holistic perspective, ensuring that their company's vision remains intact throughout every aspect of their branding," FPW Media says.
FPW Media's Future
FPW Media has a bright future, and the company holds a clear perspective on what challenges it faces in its industry and what's viable at the moment. "We've come to realize the digital experience should be a seamless extension to the rest of any brand experience. It appears that a true metaverse is farther away from mass adoption than was previously thought. Retail is not dead but bad retail is dead," the company says. "Luxury hospitality experiences are going to continue to be in high demand for the foreseeable future. There is a vast opportunity for brands that can consistently execute high-end hospitality experiences at scale."
FPW Media is a creative studio based in the Eugene-Springfield area. With three divisions—Brand, Films, and Merch—FPW is much more than a mere marketing agency. FPW describes itself as an "un-agency" that rises above the noise in a Fast Paced World. FPW is defined by a client-first mentality, a commitment to producing superior content, an in-house guarantee of brand consistency, and unprecedented access to leadership and design specialists.
To learn more, visit  fpwmedia.com  or contact Jessica at press@garitty.com
Top Investor 2022 Royston G. King on the Road to Success
Celebrity investor Royston G. King has traveled a long and difficult road to success. Looking back on his journey, he's proud to see how far he's come. Now an investor, partner, and advisor to several multimillions- and multi-billion-dollar brands at just 21 years old, Royston's life of triumph has only just begun.
Success Starts Somewhere
Royston thinks it's important that young entrepreneurs know that the road to success is far from glamorous. He hopes that his story can give hope to those struggling in the pursuit of their entrepreneurial dreams. Upon graduating from university, Royston was penniless. At one point, he was forced to swallow his pride and borrow money from family members and an ex-girlfriend. "I used to get so angry," he recalls. "I was frustrated by my lack of progress, and I didn't know what to do next. It was a really difficult time, but I never gave up." Royston attributes his ability to overcome adversity to his high-stress tolerance, creative problem-solving abilities, willingness to ask for help, and determination to keep pushing forward, no matter what.
Royston's Grand Aspirations
Royston's ambitions go far beyond generating profits. As he explains, "My team and I are dedicated to staying ahead of the curve, but our mission isn't about simply staying relevant; it's about boosting good purpose brands to build a better world." He wants to change not only eCommerce but the entire world for the better. Royston is leading the charge in ethical, sustainable, and socially responsible brand-building. He wants to show the world that you can build a billion-dollar brand while making a positive impact on the world.
"I'm especially proud of my work with Master Scaling," he says. "We've built up and boosted so many great brands into the stratosphere, and it's very satisfying to see these responsible, good-natured brands thriving." Master Scaling is a leading venture growth partner designed to help eCommerce companies grow their brands through Facebook, Instagram, Google, and YouTube advertising; SMS/email marketing; website Conversion Rate Optimization; and many other avenues.
Royston G. King| Master Scaling| Email: royston@masterscaling.com
At Sweet Rehab, Michelin-Star Trained Chefs Make Your French Pastries 'A La Minute'
If you're craving high-end French desserts, Sweet Rehab will fulfill all of your culinary fantasies. This upscale patisserie, founded by French Chef David Zaquine, has gained popularity for its truffle and caviar madeleines, brioche feuilletées, mille feuilles, tarts, and lavish selection of Mariage Frères teas and fine champagne. The dessert bar offers an authentic and interactive culinary experience as customers get to watch their traditional French desserts being made from scratch and "a la minute" through an open kitchen. The modern Parisian-style vintage décor of the bakery gives you the impression that you've been transported to a Parisian salon.
Sweet Rehab debuted a cookie-exclusive line this month and plans to open a second location - All About Bread - in Manhattan soon, giving their store and online customers even more to enjoy.
For more information on Sweet Rehab, please contact Anne Hirsch at sweetrehabnyc.com | @sweetrehabny | contact@sweetrehabnyc.com
Valley Oaks Value-Based Method in Healthcare
LAS VEGAS, NEVADA – It is no secret that the cost of healthcare has skyrocketed in the U.S. over the past couple of decades. White several different strategies have been applied to address this rapidly snow-balling issue, Valley Oaks Medical Group, a multispecialty healthcare company that specializes in providing quality healthcare solutions to seniors, has taken an innovative approach to address this national concern.
Valley Oaks started with two clinics in August of 2020 and now has 16 locations, in Nevada, Texas, Connecticut, and South Carolina with a range of services that include primary care, rheumatology, neurology, infectious disease, and wound care specialists. The reason behind this rapid expansion is to provide more adequate access to the Las Vegas Medicare population since there is a lack of providers and care in the area currently. According to county health rankings, the number of primary care physicians per patient in Clark County is 1,760 to 1. The company provides care through several different mediums, including face-to-face visits, telehealth visits, remote patient monitoring, and in-home care. As the number of medical clinics grows, Valley Oaks increases the number of providers serving high-risk populations to keep the average number of patients per provider low, which optimizes the quality of care and patient experience.
The primary care division is focused on the value-based care model which is concentrated on preventive care and disease management with an individualized, comprehensive approach. Guru Charan, Founder, and CEO said, "We are implementing a patient-centered approach that focuses on meaningfully improving the quality of care for the most at-risk populations. Our approach disrupts the current state of care delivery for Medicare-eligible patients and aligns the incentives of our patients, our providers, and our payors by simultaneously improving health outcomes and care quality, lowering medical costs, and improving the patient experience."
The value-based model in the primary care division has consistently demonstrated better clinical results, reduced costs, and delivered an industry-leading patient experience. The strategy that Valley Oaks Medical Group has implemented is modernizing the way healthcare is today by focusing on preventative rather than reactive care.
CMRG Strengthens Companies' Recruitment Strategies Amidst the Great Reevaluation
Creative Marketing + Recruitment Group (CMRG) is showing that not even the Great Resignation/Reevaluation has to impede the recruitment of remarkable talent. As America's workforce undergoes a radical shift due to COVID-19, CMRG is helping its clients to understand the new hiring landscape, including what top candidates are searching for in an employer: shared values.
"The last few years have caused many people to rethink what is most important in their lives, and they want to connect those priorities with where they choose to work," says Crystal McKinsey, Founder, and CEO of CMRG. "The recruitment space has changed dramatically as a result. To help our clients be competitive, we are guiding them to go beyond compensation and benefits and to effectively communicate their own values."
Through its talent acquisition strategies, CMRG is transforming how companies express their values to top candidates, leading to remarkable talent delivered.
Actor/Film Producer Ben Stranahan Shifts Career into Overdrive
With some of the box office's most well-known independent films under his belt, including Castle in the Ground and Calibre, Ben Stranahan has reached the next level of his Hollywood career. As Producer at Tip-Top Productions, Ben is tackling film projects that promise to entertain, amuse, and thrill audiences.
Ben is acting in and executive-producing The King Tide, which centers on an idyllic island village that is torn apart when the community discovers a child with mysterious powers. Whether or not the child is the next savior sparks a civil war, with implications for the audience to ponder.
Ben is also executive-producing and acting in The Inventor, a film that will engage all ages with its story of Leonardo da Vinci tackling the meaning of life with the aid of French princess Marguerite de Nevarre.
Also on Ben's resume are Better Than Yourself and Road to Terzetto.
This story is a paid advertisement. TheStreet's editorial team and news staff were not involved in the creation of this content. The article was provided by Imperium Group Software.