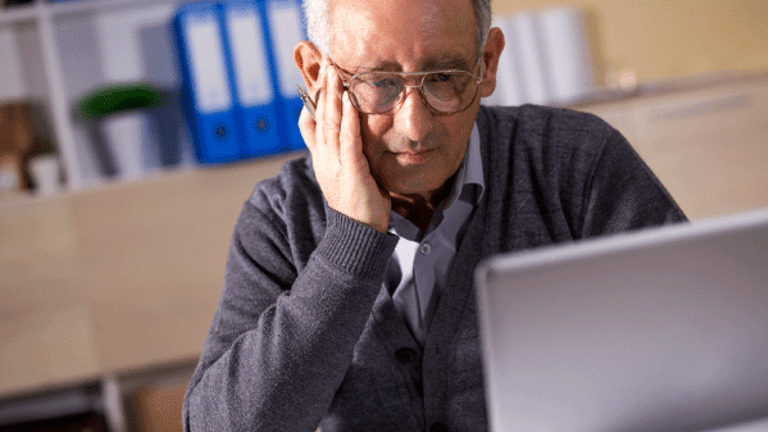 You're Too Stressed to Save For Retirement
Day-to-day expenses are killing retirement dreams.
It's easy to tell someone to save more when you aren't the one paying his bills.
A survey from Schwab Retirement Plan Services found that workers who have access to a 401(k) plan, but aren't contributing to it, are buried under day-to-day financial stress. Schwab surveyed 1,000 people, half who save their 401(k) and half who don't and found that 60% of savers and 53% of non-savers who have at one time contributed to a 401(k) say their 401(k) is their largest or only source of retirement savings. However, a quarter of non-savers say they are not saving or investing for retirement at all right now.
"In comparing individuals now saving in their 401(k) plans and those who aren't, we uncovered some common challenges but also a number of striking differences in the way each group thinks about their overall financial picture," says Steve Anderson, president of Schwab Retirement Plan Services. "What's important for everyone to remember is that - no matter how far away retirement may seem - the more you can prepare for it in the present, the better off you'll be at the end of your career."
Again, that's easy to say when you aren't the one paying the bills. More than twice as many non-savers as savers say keeping up with monthly expenses is a significant source of stress (42% compared to 20%). A full 45% of non-savers say they either have no money left over or are actually behind on bills at the end of each month, compared to 23% of 401(k) --savers who say the same.
When asked about their primary obstacles to saving for retirement, non-savers focused on immediate concerns including: needing to pay basic monthly bills (46%), paying off credit card debt (42%), covering unexpected expenses like home repairs (34%) and paying medical bills (33%). Savers have similar concerns, but generally in smaller numbers: unexpected expenses (36%), monthly bills (31%), being unwilling to sacrifice things that add to their quality of life (29%) and credit card debt (29%) top their list. As the Federal Reserve Bank of New York points out, credit card debt alone has climbed to $764 billion, up $52 billion from last year.
In hindsight, non-savers recognize the impact that debt is having on their ability to save. When asked to select the one thing they would change about the way they managed their finances in the past, 26% of non-savers say they would have accumulated less debt, compared to just 13% of savers.
However, both savers and non-savers alike have a whole lot to worry about when it comes to their retirement savings. A study by Bank of America Merrill Lynch finds that 56% of employees are stressed about their financial situation, with 53% of that group saying that their stress interferes with their ability to focus and be productive at work. Roughly 64% say they worry about running out of money in retirement, while nearly 60% say financial stress has a negative effect on their health.
As if work isn't stressful enough, 43% of employees spend an average of three or more working hours per week on personal finances, while 21% spend five hours or more.
"Stress over personal finances extends into the workplace, impacting employees' productivity, health and overall well-being," says Lorna Sabbia, head of Retirement and Personal Wealth Solutions at Bank of America Merrill Lynch. "This confirms our dedication to working with employers to help employees navigate financial concerns and improve their financial wellness."
Though half of employees rank saving for retirement as the financial matter they need help with the most, a similar percentage say they would take a more active role in managing their finances if they had a regularly scheduled financial review (50%) or a personalized action plan (49%) from their employer. While 86% of employees would participate in a financial education program provided by their employer, 40% just want their employers to take a more active role in supporting their financial lives in general.
"Employees are looking to their employers as a resource in helping them manage a broad range of financial matters," says Sylvie Feist, director of financial guidance services at Bank of America Merrill Lynch. "Employers can best meet this call for help by offering programs that address a wide range of financial needs, such as education on building better money habits and access to financial advisors who can offer personalized guidance and more holistic services."
Employers can't overestimate just how much help their employees require. According to the Schwab survey, 89% of savers and 79% of non-savers say they're relying on themselves or their spouses for their income in retirement. Meanwhile, just half of savers (52%) and non-savers (50%) believe they will receive Social Security benefits in retirement. Some 21% and 23%, respectively, say they will not.
Perhaps that's because savers and non-savers alike spent more time researching their options the last time they bought a car (4 and 3.7 hours, respectively), took a vacation (3.7 and 3.3 hours) or purchased a home appliance (2.9 and 2.7 hours) than they did making a 401(k) investment choice (2.5 hours for both groups). Meanwhile, according to Merrill Lynch, a growing number of employees (79%) indicate they have experienced an increase in health care costs. That's up from 69% last year, but it's also forcing 56% of workers to contribute less to their financial goals as a result.
"It's important for people to understand that whether you have $1,000 or $100,000, your wealth merits help to maximize its potential," says Catherine Golladay, senior vice president of 401(k) participant services and administration at Schwab Retirement Plan Services. "A number of those we surveyed, especially the non-savers, say they're uncomfortable asking for help with their finances. I'd encourage everyone to take advantage of all the resources available to them so they can better manage their current situation while putting away funds for their future retirement."
With 30% of savers and 21% of non-savers saying their financial stress spills into the workplace, it pays to keep them on track. Some 85% of savers say they are in pretty good shape or very good shape financially, compared to 64% of non-savers. That disparity leaves savers feeling far more contended overall. Of those actively contributing to 401(k) plans, 66% say they have increased their contribution percentage in the past two years and 62% saying they believe they are saving enough to retire when they want to.
"Americans have many legitimate and immediate financial concerns preventing them from setting aside funds for retirement," Schwab's Anderson says. "The good news is that both 401(k)-savers and non-savers understand they are responsible for their own retirement, and some may just need a little guidance to help them take steps in the right direction."
More of What's Trending on TheStreet:
Amazon Is on the Verge of a Colossal Breakdown After Whole Foods Deal
United Airlines Will Feel Hurricane Harvey's Impact - How Brutal Will It Be?