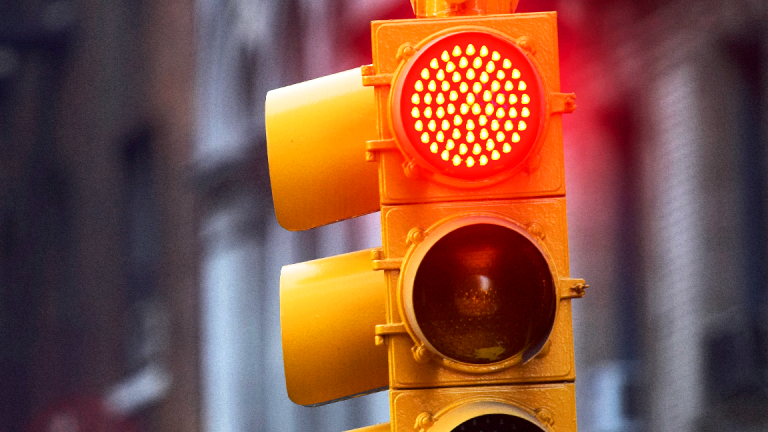 Worried About Your Retirement Investments? Don't Panic Sell
With the stock market rocking, what do you do if you're a long-term investor? Hold on. Review your investment policy statement and watch interest-rate spreads.
With the stock market rocking, what do you do if you're a long-term investor? Hold on. Review your investment policy statement and watch interest-rate spreads.
Don't worry if you feel a wee bit nervous, or even panic-stricken, at the moment.
That's because losses -- as in the Dow's roller coaster ride over the past week -- loom larger than corresponding gains, according to those who study behavioral economics. In other words, losing, say, 7% of your money hurts twice as much making 7%.
So, it's normal, it's human nature, that you're in panic mode. But don't act on your panic. Or at least don't panic sell.
Put Things in Perspective
"Nothing happened on [Friday, Feb. 2] that should induce a panic," said Richard Thaler, the 2017 recipient of the Nobel Memorial Prize in Economic Sciences, a professor of behavioral science and economics at the University of Chicago Booth School of Business, and author of numerous books, including Nudge: Improving Decisions About Health, Wealth, and Happiness.
"If investors were happy with their asset allocation on Thursday, they should find stocks more attractive today. Of course, investors sometimes are asleep at the wheel and a periodic wake-up call can be useful, but prices are just back to where they were a couple weeks ago, so why panic?," he said.
David Callaway writes that this market action is the fearful flip side for our algorithmic age. Read The Fed's Powell and the Dow's Pit of Misery
Others also suggest the stock market decline might be good for investors. "From a psychological perspective, investors will probably be inspired by the news to check their account balances," said Richard Peterson, the CEO of MarketPsych. "The average stock investor has probably not checked in a while, so they'll be surprised by how much money they now have -- not how much they lost in the past week.
Seeing their flush balance, Peterson said, investors will be more likely to stand pat -- exhibiting a behavior made famous by Thaler and called called the house money effect. "They see they are up more than their expectations, and they'll be fine 'letting it ride.'"
There's another way to put these stock market declines in perspective, as well. "No one seems to be talking about the 45% decline in bitcoin/cryptocurrencies over the past month," said George Padula, the chief investment officer of Modera Wealth Management. "If investors are worried about a 2% drop in equities, what do you think their worries would be if that was widely accepted?"
Read this great column by TheStreet Managing Editor Jerry Kronenberg: Why I Made a Chai Latte While the Dow Was Crashing.
For his part, Padula offered the following perspective:
We've had 15 straight months without a monthly loss in U.S. equity markets.
The 665-point decline in the Dow Jones Industrial Average on Feb. 2 was the largest since June 2016. However, back in 2016, the Dow declined about 5%, and Friday's drop was 2.5%.
And while Monday's drop was the biggest point drop ever, it still pales in comparison to the largest daily percentage losses: On Oct. 19, 1987, the Dow fell 22.61% and on Oct. 28, 1929 the Dow fell 12.82%. By contrast, Monday's drop was 4.6%.
Because of how the DJIA is constructed, the two companies that had the biggest impact to the downside on Friday were Goldman Sachs (GS) - Get Report and Boeing (BA) - Get Report . And on Monday, Boeing, United Healthcare (UAHC) and 3M (MMM) - Get Report were the biggest point decliners in the Dow. "All three have well outpaced the DJIA over the past five years," said Padula.
So, in other words, don't panic: Stay on your course.
Revisit Your Investment Policy Statement
Of course, if you want to do something while you're staying the course, consider reviewing your investment policy statement, or IPS. The IPS, assuming you have one (and you should), is a document that details everything and anything having to do with your investments, including your goals and cash flow needs; the returns you need to achieve your goals; your time horizon; your risk tolerance (or, more importantly, your risk capacity (how much money you can afford to lose without it affecting your plan); tax concerns, and other relevant facts and circumstances, including stage-of-life issues.
The IPS, when done right, establishes your asset allocation. It establishes how much of your money you will allocate to stocks, bonds, and cash; and within those assets how much you will allocate, for instance, to domestic and international stocks, large-, mid-, and small-cap stocks, growth and value stocks, and so on. It also establishes how much you will allocate to government, corporate, high-yield, international and emerging market fixed-income securities, as well as where on the yield curve you will invest your fixed-income investments.
Decide When to Rebalance
The IPS also establishes rules for rebalancing your portfolio as it moves away from its target asset allocation. In some cases, experts recommend that you rebalance -- sell your winners and buy your losers -- once per year (or quarter. or month) and other experts, including Michael Kitces, publisher of the Nerd's Eye View, suggest rebalancing using something called "tolerance bands."
"The research suggests a superior rebalancing methodology is to allow portfolio allocations to drift slightly, and trigger a rebalancing trade only if a target threshold is reached," he wrote in this blog post. "If the investments grow in line and the relative weightings don't change, no rebalancing trade occurs. However, if these 'rebalancing tolerance bands' are breached, the investment -- and only the investment -- that crosses the line is then bought or sold to bring it back within the bands."
So, assuming you use tolerance bands to determine when you'll rebalance, now would be a good time to check whether those risk tolerance bands -- usually set at five percentage points for common assets and maybe 10 percentage points for esoteric assets -- have been breached and, if so, your cold-blooded emotionless instruction would be to sell this or that investment and buy this or that investment.
So, for instance, if you set tolerance bands at five percentage points, your 60% stocks and 40% bonds portfolio would have to hit 55% stocks and 45% bonds (or 65% stocks and 35% bonds) before you must rebalance.
But in the absence of any breach, it's unlikely that you'll be doing anything but watching your neighbors, friends, family and co-workers panic sell.
Another way to look portfolio is in the context of diversification, the investment principle of not putting all your eggs in one basket. Let's say you started the year off with a traditional 60% stocks and 40% bonds portfolio (we'll use the Morningstar Moderate Target Risk index as our proxy), your portfolio was up 2.61% year to date through Feb. 2 and down -- proving once again that diversification works -- only 0.11% on Friday.
For his part, Jeffrey Kleintop, a senior vice president and chief global investment strategist at Charles Schwab, said rebalancing back to target allocations will be increasingly important in the current environment. "Increased volatility and the advanced stage of the business cycle means that staying diversified and watching target asset allocations are important," he said.
Other investment experts also suggest that now's a good time to revisit your IPS. "This is a fantastic opportunity to recognize the need to be diversified, rebalance back to targets and not get caught up in the media noise," said Padula. "The absence of risk, as has been the case for the past 15 months, does not mean that risk does not exist."
Diversification Works
Another way to look at your portfolio is in the context of diversification, the investment principle of not putting all your eggs in one basket. Let's say you started the year off with a traditional 60% stocks and 40% bonds portfolio (we'll use the Morningstar Moderate Target Risk index as our proxy), your portfolio was up 1.34% year-to date-through Feb. 2 and down (proving once again that diversification works) only 1.23% on Friday as compared to 2.5% for the Dow. And over the long-term, investors who owned a traditional 60/40 portfolio, using Morningstar Moderate Target Risk index as the proxy, earned on average 8.14% per year over the past 15 years.
"Diversification matters," said Padula. "On Friday, while general U.S. stocks declined around 2%, the aggregate bond index barely moved, value indexes did better than growth-oriented indexes, small-caps did better than large-caps, corporate and high yield bonds, while down, declined well less than 1%, real estate was down about 1%. A diversified portfolio would not have declined as much as the DJIA."
Cramer and the AAP team say that on Friday they exactly the kind of market volatility they added a blanket of protection for when they raised cash last week. Find out what they're telling their investment club members and get in on the conversation with a free trial subscription to Action Alerts PLUS.
What Advisors Are Telling Their Clients
We should also note that plenty of financial planners are telling their clients to sit tight through the current turmoil in the stock and bond markets.
Marc Freedman, president and CEO of Freedman Financial Associates, sent this note out to his clients on Friday: "Managing your investment portfolio is paramount to helping you achieve your financial dreams and goals. Your asset allocation is deliberately constructed to align with your needs and not a cookie-cutter model. Drops like today are not unexpected; in fact, they are built into your overall financial plan."
What else might you consider or expect?
Expect More Volatility
Do expect much more volatility in the markets. Based on MarketPsych's sentiment analysis tools such as the Bubbleometer, which measures the amount of speculative minus analytical conversation in the media about an asset, "we're probably in for more volatility and a downwards leg at this point," said Peterson. "Media has turned more negative, and investor behavior will usually/eventually follow the media."
While volatility has picked up these past few days, recall back in June, 2016, that the Brexit vote caused significant whipsaws for a few days, said Padula. "Then once there was a recognition that the economy was stable, markets settled down," he said.
Padula added: "We don't know if that will be the case here, and we approach investing from an overall asset allocation viewpoint versus which individual stocks to buy. It goes back to being focused on long-term goals, understanding what your investments to be used for, investing regularly, recognizing that it is time in the market, not timing the market that is far more important and don't take more risk than needed to reach your goal."
Don't Try to Time the Market
For the vast majority of investors, Padula, said the primary strategy is to recognize that timing the market is a futile exercise. "Investing or pulling back simply on the basis of one day, one event, is not a long-term strategy," he said.
To be sure, Peterson expects that some investors will try to time the market. But don't be one of those. "More reactive traders are probably wondering if this is the top, and they may sell," he said. "But that selling may be offset by buying from long-term investors who have realized how much they've already missed out on. They will be buying the dips."
Stay Invested and Go Global
You might also consider, given the current environment, making some tactical adjustments to your portfolio. "There is usually a melt-up before a meltdown," said Kleintop. "In fact, in the year before the U.S. yield curve inverts and signals an oncoming recession and bear market, global stocks have always posted a gain and that gain has been double-digit, on average, despite above-average valuations and frequent pullbacks."
Indeed, Kleintop suggested that international stocks may outperform U.S. stocks. "In the year before the yield curve signals an oncoming recession and bear market, U.S. stocks have averaged a 9% gain compared with 21% for international stocks and 27% for emerging market stocks," he said.
Prepare for Rising Interest Rates
"A steeper-than-expected rise in global interest rates is unquestionably the biggest risk to the stock market," said Kenneth Rogoff, a former chief economist of the IMF, a professor of economics and public policy at Harvard University, and author of many books, including This Time Is Different: Eight Centuries of Financial Folly. "But a gradual rise should not be a major problem. Indeed, if global growth continues to outperform, which is a distinct possibility as the global economy reflates after years of post-financial crisis slow growth, stocks could well keep rising despite higher interest rates."
Padula said it's also worth examining why the stock market has declined. "In a sense, the drop was not because of a slowing economy, but of a growing economy," he said. "The jobs report was strong, wages picked up, companies reported that corporate earnings are growing and some now are forecasting higher inflation."
Of note, on Feb. 2, we learned that average hourly earnings for private-sector workers rose 2.9% in January from a year earlier -- the largest year-over-year increase since 2009 -- and the yield on the benchmark 10-year Treasury note rose to 2.852%, perhaps a signal of rising inflation
Padula noted, too, that many companies are also reporting that the tax cuts will add to earnings and some are passing the savings along to employees in the form of bonuses, higher 401(k) matches and/or better benefits. "The perspective is that inflation has been quite low and as it increases, the Fed may raise interest rates faster than forecasted," he noted.
Given that, Padula suggested that investors watch interest rate spreads. "While some are reporting on the jump in 10-year Treasury yields, I think the bigger story is in the spreads," he said.
The spread between the yield on 2-year Treasury note and the 10-year Treasury note fell from 1.25% at year-end 2016 to 0.51% at year-end 2017 and was at 0.69% as of Feb. 2.
Using Federal Reserve economic data (FRED), Padula said the average spread since 1976 has been 0.97% and about 1.77% since 2008. "Tight and/or negative spreads tend to precede a slowing economy," he said. "So, while the 10-year yield has increased, that the spreads are increasing could be a positive, not a negative." Read more about these trends and see a chart of the 10-year Treasury bond rate yield.
Adjust Your Assumptions
Given that, now might be good time too to review other elements of your IPS including your capital market expectations and the inflation rate you are using for your projections. Given, current economic conditions, you might need to adjust some of your assumptions.
Look for a Place to Park Your Cash
With short-term interest rates increasing, Padula noted that the yields for online savings accounts at banks such as Ally Bank, Capital One 360 and CIT Bank are now in the 1.3% to 1.4% range. "Those yields still are not great, but far better than they were just a few months ago," he said. "If one needs to park cash for a time, those types of accounts are a great option. If investors truly cannot stomach a return to more normal fluctuations in equities, a reassessment of their long-term approach may be the best strategy."
Prepare for a Recession -- But Not Until 2019
Investors, though advised to sit tight, should nonetheless remain vigilant.
"Last week was the worst week for global stocks since February 2016 when fears of a sharp slowdown in China's growth shook world markets and global bond yields plunged," said Kleintop. "But this time the catalyst wasn't fear of weakening growth, it was fear of too much growth and a surge in global bond yields."
An overheating global economy could mean, according to Kleintop, a more rapid shift by central banks to rein in stimulus, often a precursor to a recession. "Yet, we still believe a recession is not on the near-term horizon and that a pickup in inflation could help sustain earnings growth," he said.
According to Kleintop, 2018 may be the first year of back to-back growth in all of the world's 45 largest economies in more than a decade. Still, he noted, "the global economic expansion is likely approaching the later stages with an increased risk of a recession and bear market in 2019 or just beyond."
Create an IPS
Now it's possible, especially if you don't have an investment adviser, that you don't have an IPS. If that's the case, now would be a good time to craft. There are plenty of samples on the web. Just search for "investment policy statement." One document worth reading before you start drafting your own IPS is one published by the CFA Institute.
By the way, if it's not obvious already, having an IPS will help you deal with days like Friday when the Dow suffered its biggest one-day drop since 2016 and bond yields rose to the highest level in four years.
Turn the Financial News Networks Off
Thaler also suggested that investors -- if there is a crisis - turn off the financial news networks and turn on something like ESPN. "We know that individual investors have negative ability to time the market," he said. "They sold at the bottom in 2008, and retirement plans net asset flows did not tilt back toward stocks until something like 2013, by which time the market had doubled. So, make sure your asset allocation is sensible, be globally diversified, and enjoy the game."
Got questions about the new tax law, Social Security, retirement and/or investments? Email