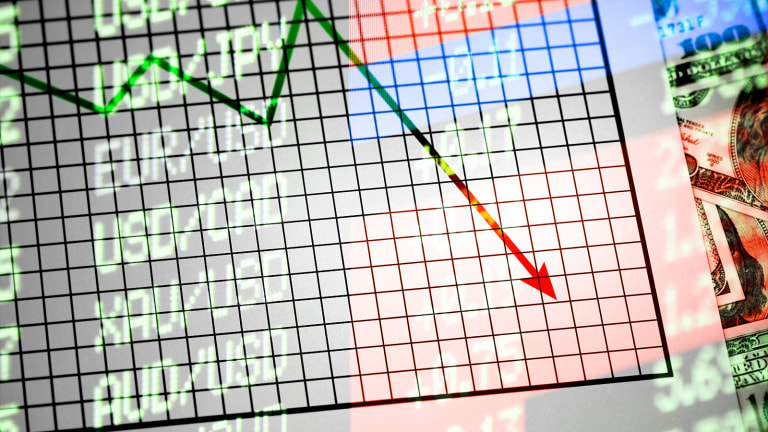 Why This Volatility Could Help Your Retirement Portfolio
The daily swings in the market are often wide and unpredictable, which instills panic among many investors who are fearful of the downturns in their retirement portfolios.
The daily swings in the market are often wide and unpredictable, which instills panic among many investors who are fearful of the downturns in their retirement portfolios.
The daily swings in the market are often wide and unpredictable, which instills panic among many investors who are fearful of the downturns in their retirement portfolios.
But it's a whip-lash we have to learn to accept: after all, volatility in the stock market is "here to stay," said Matthew Tuttle, the portfolio manager of Tuttle Tactical Management U.S. Core ETF (TUTT).
"All is not right with the world," he added.
The first few trading sessions of the year were marked by steep losses amid fears of a global slowdown in China along with record low oil prices. The declines in the strength of global currencies along with concerns about interest rate hikes from the Federal Reserve drove even more uncertainty, said John Sweeney, executive vice president of retirement and investing strategies with Fidelity Investments in Boston.
"After several years of relatively positive markets, the question is whether investors will see more volatility in 2016 than they did in previous years," he said. "These trading sessions have reminded investors that volatility is to be expected when investing."
Why Volatility Exists This Year
The major shift in monetary policy by the Fed to raise rates after nearly a decade of a zero interest rate environment also played a factor. The Fed is expected to increase rates again this year, as many as three or four times through the end of 2016.
"Over the past few years, investors have been able to count on the Federal Reserve to pump money into the market and keep interest rates low," said Martin Buchanan, a financial advisor at Buchanan Capital Management, an Oklahoma City-based financial planning firm.
When investors lack a clear view of the future of the market, volatility often occurs because the insecurity "causes investors to sell, thus creating more volatility," he said. "With a hawkish Fed, volatility is here to stay."
Volatility will always remain a component of the stock markets "as long there are differences of opinion in the value of businesses," said Jacob Ma-Weaver, founder of Cable Car Capital, a San Francisco investment advisor.
"While mark-to-market declines are never pleasant to experience, volatility creates opportunities for the patient investor," he said. "Of course, not all price changes are just noise."

Is It Good For Portfolios?
Investors who are not facing retirement soon should embrace volatility, because it "actually helps them, because they can buy more of an asset when it goes on sale as a result of temporary price declines," said Benjamin Sullivan, a portfolio manager with Palisades Hudson Financial Group, a Scarsdale, N.Y. investment firm. Whether people are dollar cost averaging or rebalancing their portfolios, volatility allows them to buy more of a low-priced asset in a systematic fashion.
Timing the market by "jumping into and out of particular stocks or asset classes" during volatile markets is not the solution and should maintain a diversified portfolio focused on their long-term needs, Sullivan said.
While volatility is not always viewed as a good occurrence, it provides opportunities for investors to ramp up their investments in various stocks, because "you have to take on more risk to achieve higher returns," said Brent Lindell, a financial advisor with Savant Capital Management, a Rockford, Ill.-based financial planning firm.
Setting aside your emotions, avoid trading excessively and stay focused on your long-term goals, he recommends.
"There is no need to worry about the short-term ups and downs of the market if you have the right plan from the start," Lindell said. "Volatility requires more frequent portfolio rebalancing which gives investors the chance to profit in sideways markets by buying low and selling high."
The recent volatility gave investors opportunities to "improve" their portfolios, because the valuation of international stocks declined much more compared to their U.S. counterparts, allowing for the capture of an "extra return," he said.
"When investors are given this opportunity in a stock market correction, many are persuaded by their emotions to sell rather than buying on sale," Lindell said.
In the short-term, volatility can hurt portfolios, but over a longer period of time it turns out to be positive since "it takes a homogeneous market and creates price anomalies that allow nimble buyers to get fundamental deals," said Patrick Morris, CEO of New York-based HAGIN Investment Management.
Since the market had been on a seven year bull run, it was "very, very difficult to find cheap stocks," he said. Since there is a limited supply of public corporate stocks to purchase, especially when there is a lot of liquidity or cash available, the prices became too high. Most investors behave by selling the "best performing" part of their portfolio instead of the opposite.

Not Extreme Volatility
The good news is that the recent swings in the market has not exhibited signs of extreme volatility although it is "well above" the average volatility over the last 20 years as measured by the VIX, said Carl Sera, a portfolio manager with Covestor, the online investing marketplace and research director at Sera Capital Management, a registered investment advisor in Annapolis, Md. The market's returns in August 2015 were nearly twice as volatile.
"The stock market has seen an orderly move down, and it has been reflected in the market by an orderly increase in volatility," he said. "This is what makes the recent period unusual. Volatility has a tendency to overshoot, which means the interpretation of the recent events tells us that investors see bad things coming and they can understand and quantify what they see."
Another way to view volatility is that even though the forecast of the market is not good, the outlook by investors "is more predictable, otherwise volatility would be significantly higher than what we've recently experienced," Sera said. "Right now, the markets are telling us that investors know what to expect and while they don't see a rosy outlook, the reason volatility is higher than average is that they can see it with a higher degree of certainty than usual."
Investors should heed the fact that nearly 100% of all profits made since 1926 in the stock market were made during the 70% of the time when the market was above the 12-month simple moving average, according to monthly Morningstar data from 1926 through the present, Sera said. During periods when the stock market is below its 12-month simple moving average, volatility is more than 50% greater.
The market currently has the lowest allocation to stocks since August of 2009 since many investors do not own any equities. Deciding on your investment strategy is critical since the first type recognizes that "volatility is their best friend and embraces it," Sera said. "These clients are always in the stock market and looking for the best opportunities and can withstand 40% to 50% temporary market losses."
The second type of investor is always more risk averse and the result is having the lowest allocation to stocks since August 2009.
Not panicking benefits investors in the long run since the return on the S&P 500 was 244% from the lows of March 2009 to July 2015.
"People who stayed invested through the financial crisis not only recovered their losses but are well ahead of the game," said Don Shelly, a finance professor at Southern Methodist University's Cox School of Business in Dallas. "First and foremost, volatility is information—information about prices, expected returns, greed and fear."